Item #1 — Happy Martin Luther King Day!  I hope many of you got the day off & are enjoying it to the fullest…as well as taking a moment to reflect upon what the man himself stood for.
Item #2 — New emoticons! :blowkiss
Happy Valentine's Day :VDay
St. Patrick's Day :stpat
& Easter  :easter all rolled into one!  (With a few generic naughties thrown in just for fun. :cuffs )
Item #3 — Please mark your calendars for tomorrow's guest blog with debut author Joan Swan.  She'll be here talking about her upcoming release, Fever.
Now on to the fun stuff…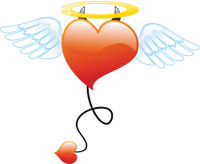 Did you know…
There's a road in Norfolk, England named "Sluts Hole Lane"?
There's a county in Texas called "Glasscock"?
There's a town in England named "Titty-Ho"?
There's a village in Powys, Wales, named "Three Cocks"?
There's a town in Wyoming named "Maggie's Nipples"?
You know what they say about real estate:  the most important thing is location, location, location. :rolf
And I shall leave you to make up your own jokes for the rest. :cuffs
Comments
25 Comments • Comments Feed