As most of you know, I'm packing for the upcoming NJRW conference.  (Yes, I'll be away for a while, but never fear—I have pre-dated some extra-fun posts here in The Dungeon to keep you occupied, as well as leaving Mistress Heidi behind to maintain law & order. :ouch )
I've gotten almost everything together, but since I can't go anywhere without a book in my hand, that's one of the last things remaining on my packing list.  I'm just finished up Out of the Light, Into the Shadows, which means the decision of what to start next—& take along with me to the conference—is wide open.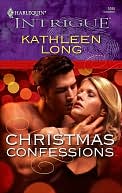 This is never good, though.  I have too many options piled up all around me, so when I'm not sure what to read next, I start to feel sort of overwhelmed & schizophrenic.  (Mostly because I want to read everything all at once!)
Suddenly, I'm in a Christmasy mood (gee, I wonder why *g*), so I dug out a few holiday titles I'm kind of eager to read.
Christmas Confessions ~ Kathleen Long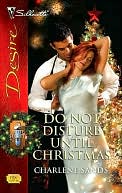 The Christmas Clue ~ Delores Fossen
Do Not Disturb Until Christmas ~ Charlene Sands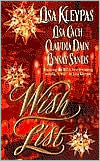 Wish List anthology ~ Lisa Kleypas, Lisa Cach, Claudia Dain, Lynsay Sands
They all look good, so I could easily jump on any one of them to start.
But I've also been on a bit of a Lori Foster kick & would love to read something else of hers.  Just a Hint–Clint, maybe, or the Jingle Bell Rock anthology she headlines.  (That's Christmasy, right?)
Then there's Iris Johansen's Deadlock staring at me, taunting me.  I do so love her books.  And some more paranormals that I feel like I should read, since A.) Halloween is coming up, so that would be more appropriate than starting
Christmas books already, & B.) I'm working on my own vampire story, so they could act as motivation.
The Weddings from Hell anthology, maybe…the Dead After Dark anthology…the next book in Gena Showalter's "Lords of the Underworld" trilogy…  All ones I've been meaning to get to, that look good, that are staring at me, taunting me.
They all do that, in case you couldn't tell.  Do your To Be Read piles taunt you?  Read me….  Read me… What are you waiting for?  Read me now…  It's quite disturbing. :stalker
So help me out. What do you guys think I should start next & pack to take along on my trip?  (There won't be a lot of time to read, I know, but as I said, books are my version of the American Express card—don't leave home without them! :cantputdown )
Comments
15 Comments • Comments Feed