Even though—in hindsight—it is clearly right up my alley, I must confess that I haven't been watching Bob's Burgers. Oh, I caught the occasional snippet or quote via previews or the internet, but I was already too far behind to jump in. (I like to see shows from the beginning so I know what's going on.)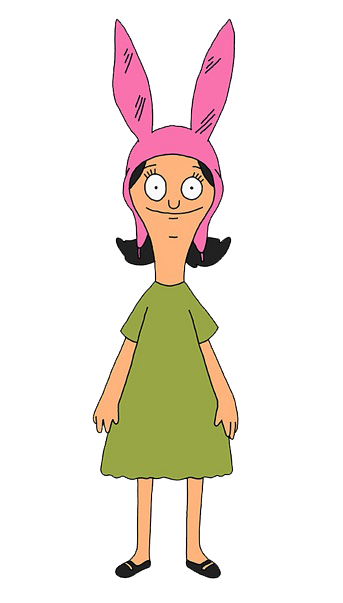 Then I started to notice that our own Darling Hollie was using a picture from the show as her Facebook avatar—the little girl in the bunny ears, which has always been my favorite…even though I wasn't really familiar with her character. And if Darling Hollie was a fan, then there had to be something awesome about the show, right?
I still didn't jump right in. Oh, no, I started doing the occasional search to see when it might start to repeat from the beginning. It took a few months…but finally I discovered that Season 1 was going to start airing again on the Cartoon Network, & so I started to record it.
There have been a few shows I've kicked myself about not watching from the very beginning (My Name is Earl, Raising Hope, Supernatural) & this is one of them! Ohmigosh, do I love this show. It not only makes me laugh all the way through, but I catch myself laughing again later, just remembering a certain line or scene.
Yep, I absolutely love Louise, the little girl in the bunny ears. (Although, am I the only one who thinks her name should be Tina & the other girl should be Louise? I don't know why, but it just seems like their names should be switched to better match their personalities.)  Maybe because we—or at least she & Mistress Heidi—seem to have so much in common.
And Linda's voice… Ugh, so grating, but it's gotten stuck in my head like nobody's business! But in a good way, I guess, because it makes me chuckle every time my subconscious shrieks, "Oh, Bobby!" :tongue:
In fact, I like Bob's Burgers so much, there are two things I now desperately want from Darling Hollie…
#1 — I want to see her dress up like this for Halloween
#2 — I want my very own Bunny Hat…  (Which I suspect she could make in her sleep. :skater: )
However, if Darling Hollie makes me a hat, then we end up getting together for Halloween one day down the road, we'll probably have to fight over which of us gets to dress up as which sister.  I'm happy to be Tina, as long as someone finds me the wig & (blue, thank you very much) t-shirt.
So expect some Bob's Burgers references to pop up here in The Dungeon & on my Facebook & Twitter pages in the future as I begin to channel that precocious, slightly even young Louise. My hope is that you'll enjoy them as much as I do. But if you don't…
Blame it on Darling Hollie!
Comments
17 Comments • Comments Feed