I'm kicking off this week's Tease Me Tuesday with another fang-tastic review of MUST LOVE VAMPIRES!  :fanglips   This one actually made me chuckle, & I'm the one who wrote the book to begin with!  Something about the reviewer's enjoyment of the story just tickled me, I guess. :jack
So here we go…
This review comes to us from Miranda at JoyfullyReviewed.com, & I should probably remind you (in case I haven't mentioned it recently) that MUST LOVE VAMPIRES is actually a 2-in-1 collection, so she reviewed each novella individually, as well as the book as a whole.  And did I mention that the review is fabulous? :dancer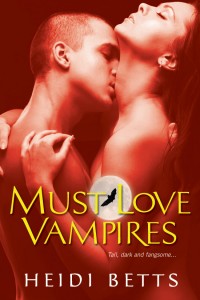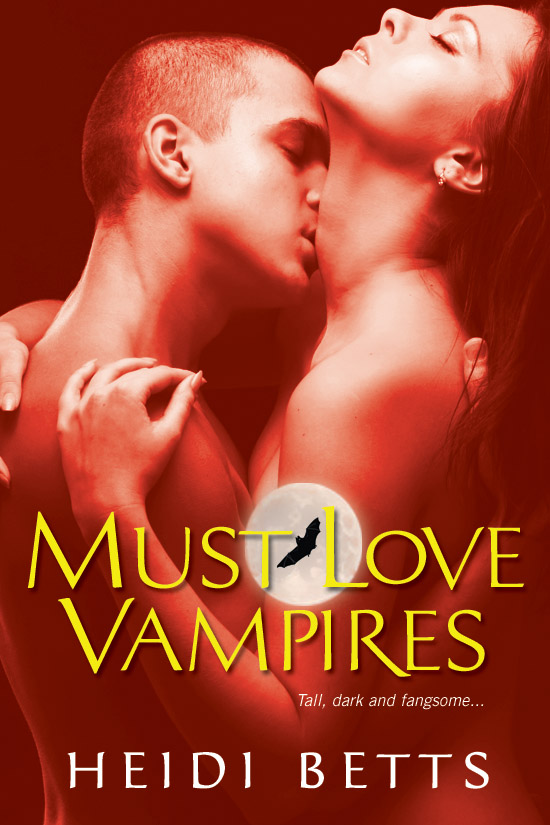 "Vampnapped"
Charlotte "Chuck" Lamoreaux is tired of doing the same old UFO and Bigfoot stories for her job at the Las Vegas Tattler. Chuck knows it's not serious journalism, but she is determined to prove that one tall tale is actually true. That's how she finds herself impersonating her twin sister to get closer to the dark and dashing Sebastian Raines. Chuck is willing to do whatever it takes to prove that the filthy rich Vegas Casino owner is actually a Vampire!
"Vampnapped" is a hysterical and gorgeous romance! It's impossible not to fall in love with Chuck and her indelible nature. She is smart and spunky, with a side of crazy. I'd be willing to follow this character anywhere. Sebastian is your typical hot vampire, although he's a little too serious for his own good. Chuck's about to change all that! The scene with the wine is my favorite. I think I laughed so hard my stomach hurt!
"Married…with Fangs"
Chloe Lamoreaux has finally met the man of her dreams! Aidan Raines is not only handsome and kind, he's rich!! Chloe may not be head over heels in love with Aidan yet, but she knows it won't take long to get there. She's tired of dancing in the "Flames of Hell" show at Aidan's brother's casino. Most importantly, Chloe needs a good man to be a father to her little boy. So what happens when these two love birds get hitched? Chloe finds out there's way more than meets the eye with Aidan—he's a vampire!
Chloe and Aidan make "Married…with Fangs" a hit! Chloe and Aidan are superb as the typical Vegas couple that rushes into marriage before exposing all their deep, dark secrets. Both of these characters are great, but Aidan appealed more to me here. Aidan, a vampire who has been around for awhile, is actually just now getting around to growing up.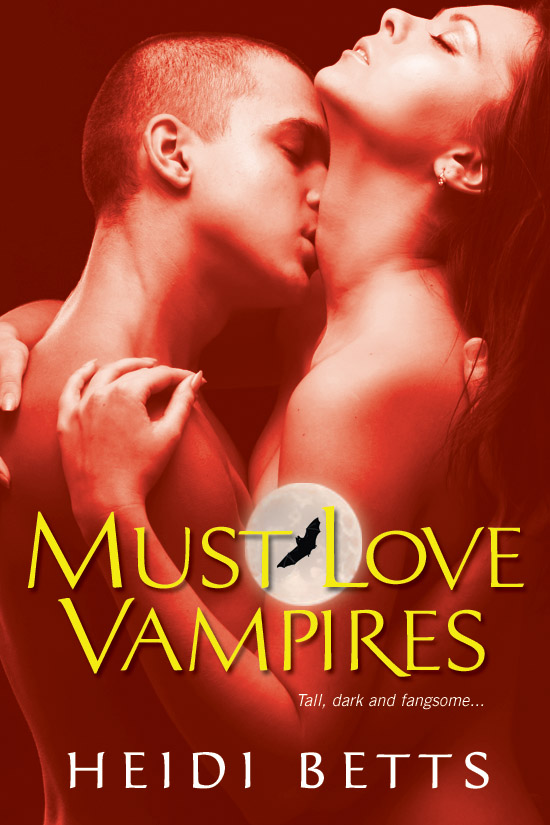 Must Love Vampires is drop dead funny!
If you are in a bad mood pick this book up and I swear you will laugh your butt off!
Must Love Vampires is a guaranteed pick me up!
Heidi Betts's Must Love Vampires features wondrous characters and killer plots guaranteed to make you giggle and swoon!
Hap-py danc-in'… :dancingelvis
Thank you so much, Miranda!  I'm delighted you enjoyed my vamps-in-Vegas story & gave me so many great quotes to grab.  I haz a happy for sure! :coffin
Where To Buy
Amazon :: Kindle ebook :: Barnes & Noble :: NOOK ebook
Book Depository (free international shipping)

Comments
15 Comments • Comments Feed