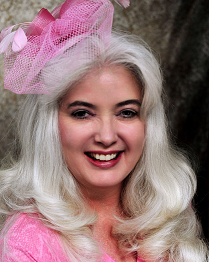 I'm absolutely delighted to have Harlequin SuperRomance author Angel Smits as our guest today, because I've had this gal on my radar for quite a while.
  Several years ago, I judged RWA's unpublished writing competition, the Golden Hearts, & was lucky enough to get Angel's entry.  (FYI, the contest has gone back & forth over the years on the issue of allowing entrants' names to be seen by judges; this was clearly one of the "it's allowed" years.)  I couldn't give you details about her entry at this point, but I remember loving it; giving it nice, fat scores; & always having her name in the back of my mind to watch for, because I just knew she'd be published one day.  And look at this—I was right.  There's almost nothing I like better than being able to say that. :alice:
Angel Smits is the author of seven romance novels, the five most recent for Harlequin SuperRomance. Her stories of heart-and-home have won numerous awards, including the Romance Writers of America's Golden Heart and PPWC's Paul Gillette. Her non-fiction work has appeared in numerous publications, such as Wild West and Fragments. She lives in Colorado with her husband and daughter in a big yellow house with a wraparound porch, complete with its own lovely swing. :swing:
Please join me in welcoming Angel to The Dungeon, where Mistress Heidi & I couldn't wait to get her on The Rack… :devil:
What is your favorite color?  Pink!
Favorite song?  It's a song called, "I Thought You Knew" that is on one of Keith Urban's early albums. It's a beautiful ballad, and the story of how he wrote it is a very heartfelt one.
Favorite movie?  Dirty Dancing.
And of course, favorite book?  There are so many, but one of my favorite authors, Paula Detmer Riggs, wrote A Lasting Promise.  It's a beautiful story that makes me grab for the hankie even after reading it a half dozen times.
What was the first book in your chosen genre that you remember reading, or that made you want to write the same?  I was 14 when I read my first Harlequin. An early Anne Mather, Night of the Bulls, made me fall in love with the romance genre. I'd already started writing stories, and I read that and knew I wanted to be a Harlequin author just like her!
What do you think of Heidi? She's great, right?  She's the best—and has such great taste in authors. :beehappy:
How did you get started writing?  I think I was born with a pen in my hand. I used to write when I was a kid. My first published piece was a poem, "What is Purple" in 4th grade, so I started young.
Tell us a little bit about The Call—i.e. your first sale. Unfortunately, it wasn't a call, it was an email. By the time my editor bought my first book, I'd done several rounds of revisions, so it wasn't as much a "we want to buy this" as a "you finally got it!" That was with a small publisher, Imajinn Books, and was a paranormal romance set in Cripple Creek, Colorado. The editor had actually grown up visiting there, just as I had, and she loved the setting.  But either way, it was one of the best days of my life. I kept asking my husband, "I really did sell a book, right?" :dizzy:
Fill in the blank—If you like [blank], you'll love Angel Smits! Someone recently said that if people like Debbie Macomber, they'll like my stuff. I don't know for sure if that's true, but I'll take that compliment any day! :giraffe:
If your plane crashed in the Andes, would you convince the other survivors to eat Heidi first or last?  I'd definitely lobby to put Heidi out of her misery first. Why make her suffer through what we're all facing? Uh, pass the salt…  (Note from Heidi:  Hmm.  I think you may be the first guest who's answered that way.  I'll have to take a few minutes to decide how I feel about that… :raincat: )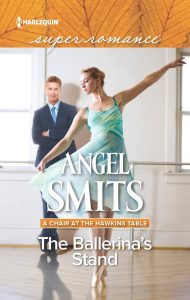 What book would you like to pimp to the Darlings of The Dungeon today? Tell us about it, and why we'll love every word! I'm in the middle of my "A Chair at the Hawkins Table" series for Harlequin SuperRomance—it's the stories of six siblings who realize they need to go out and find love after their mother passes away. They find that love, but are still anchored to their family, which is symbolized by the dining room chairs they each hold dear.
This next book, THE BALLERINA'S STAND, comes out in July. Jason Hawkins is a jaded lawyer who agrees to take care of the final wishes of a man who's nearly destroyed his family. The beautiful, deaf ballerina, Lauren Ramsey, who benefits from the inheritance dances away with his heart. What else can he do but go after it?
While chatting with Mistress Heidi about THE BALLERINA'S STAND, you said, "It's about a deaf ballerina. What kind of idiot comes up with an idea like that?!" So tell us: What kind of idiot does come up with something like that? :seymour:  (i.e. What compelled you to write this story? What was your main inspiration?)  They always say to write what you know. (Or what you can get to know.) This idea came from taking a sign language class at work, and while I was inspired by the woman teaching us, I realized real quick I was in over my head. My heroine is tough, much like that teacher. I wanted to show the strength that people who deal with something day-in-and-day-out, like deafness, have. I wanted to give her a man who accepts their differences and loves her despite it. I know I only scratched the surface on the issues, but I hope I did them justice. Wanting to make all that work, I actually intimidated myself. It took a while to get over my own fear. But I love these characters, and I'm thrilled with how it turned out. :butterfly:
If you could write anything—whether in the same genre/sub-genre as you're writing now or another—what would it be?  I love to read historical novels for the depth of description and setting. But research isn't my greatest talent. If I could take that depth and bring it to a contemporary novel—and throw in some magic—I'd be a very happy girl. Think something like Sarah Allison Addison's Garden Spells. Loved that book!
What are you currently working on?  I'm working on several things all at once. Yikes! Mostly the next book in the "Chair at the Hawkins Table" series for SuperRomance. This is Tara Hawkins's story, and I'm just getting started with it. But I'm also reviewing my Imajinn Books as they are preparing to re-release those. And I'm playing around with a bunch of other things. I actually finished my first short story—for someone who writes long books like I do, that was hard! :situp:
LIGHTNING-FAST LASHES:
Leather or lace?  Lace
Devil or angel?  *snicker* Angel, of course!
Angel food or devil's food?  Angel food…with fresh berries!
Hemlock or arsenic? Arsenic…goes with the lace, right?
Blood, sweat, or tears? Definitely tears. (I give away promotional packages of tissue since my books are tearjerkers! :tears: )
Boxers, briefs…or commando?  Oh, let's live dangerously…commando! :cuffs:
Cowgirl or missionary? (Hey, get your mind out of the gutter. I was simply asking what you wanted to be when you were growing up. :fairie: )  Uh-huh, sure Heidi. :margarita:  I've always wanted to be a writer, but I had delusions as a child that I'd travel the world and write articles for big, glossy magazines. Then after I'd seen the world, I intended on settling down to write about my adventures in fiction. Guess I just took a shortcut. :nap: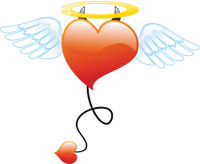 Thank you so much, Angel, that was fabulous! :spring: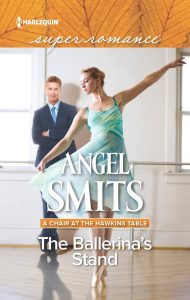 But if you think an entertaining interview is all our lovely guest has to offer, my Darlings, you would be wrong.  Angel is also giving way an autographed copy of THE BALLERINA'S STAND to one lucky winner!  (Note:  Winner will have to wait until Angel's author copies of this book arrive, but then she'll get your signed copy in the mail to you post haste. :flowers: )
All you have to do to enter is leave a question or comment for Angel during her visit.  U.S./Canada residents only for the giveaway, please, but everyone is welcome to chat. :ducks:
Thanks again to Angel Smits for spending the day with us, & to all of you for visiting our wonderful guest! :alice:
And remember, you can always visit Angel & find out more about her books by visiting her little corner of the web, AngelSmits.com!
Comments
14 Comments • Comments Feed