If you've been paying attention, you may have noticed some recent funkiness with The Dungeon emoticons. img31
First they disappeared…then they came back but were too teeny-tiny to see…& now they're back again, but work a bit differently than they did before. img18   Just so you know, this has to do with the WordPress plug-in that runs the smilies, which is a bit out of date. img43
Luckily, we have an awesome web gal (she knows who she is img32 ) behind the scenes, who has been working on the issue.  She found a new plug-in to get our emoticons back up & running…  But as I said, they work just a little bit differently now. img39
Knowing how smart my bright little Darlings are, you may have figured this out already, but just in case…
All the emoticons are there, just below the New Comment box, as usual, but you may not be able to see the all at one time.  You'll notice a small link that says, "more…"  Click on that, & the entire collection of emoticons will appear.  Click "less…" (which should be "fewer," I know; the writer in me has a seizure every time I see it img28 ) & the majority of them go away again.
It's a bit of a pain, & I did ask Web Goddess if she could find a way to change it so all of the smilies are there all the time, but until we (read: she img15 ) can work out all the bugs, we'll just be grateful that we have workable emoticons, okay?
Okay. img40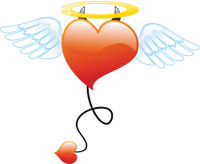 Part 2 of today's Dungeon Service Announcement is something else you may have already noticed…
The WIPs and Chains sidebar has been updated!!! img26
This time, we've decorated for the July 4th holiday—also known as Independence Day, of which Mistress Heidi is a big fan. img24
As always, the new additions to the sidebar are funny, snarky, & maybe even a little thought-provoking. img44
I hope you enjoy everything & will even take a moment to let me know what you like best.  
That should do it for today's announcements, so now you're all caught up.  Feel free to stick around & enjoy our new toys, or leave a random comment about whatever the heck you'd like.  After all, it's Monday…nobody expects much from us on a Monday. img41
Comments
16 Comments • Comments Feed