Since we're halfway through January, I know most of you probably have brand new 2012 calendars up already. But I'm betting you'll be willing to chuck them for what I'm about to offer! :jumping
Thank you so much for supporting animal welfare by purchasing our 6 Packs/9 Lives calendar!
100% of the proceeds of this calendar purchase goes to provide low cost/high quality spay/neuter in the Los Angeles area.
We created this calendar to change the reputation of cats and cat owners—cats aren't just for women—they are perfectly awesome pets for MEN and women!
Currently 72% of all cats that enter shelters in the United States are euthanized—by decreasing the negative stigma that is sometimes attached to cat ownership, you are helping to change that statistic!
Want to do more?  Join us on Facebook and Twitter (@FoundAnimalsOrg) and sign up for our newsletters from our website www.FoundAnimals.org.
That's right—no matter how you cut it, this calendar is rockin' the love for homeless animals!
It was January already by the time I discovered these babies, but of course I rushed to order!  And I'm hoping you'll be as excited about them as I am.  I've got three (3) to give away, which means three chances to win & spend the rest of the year staring at these gorgeous hunks & their adorable kitty cats!
If you don't end up winning one of these great calendars from me, though, I hope you'll still consider ordering directly from FoundAnimals.org.  They're only $7.99 each, with free shipping & handling.  And remember—all the money goes for animals!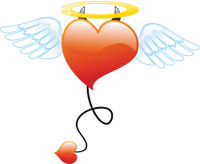 So here's how to win your very own 6 Packs/9 Lives 2012 calendar:
  I will be giving away one calendar each to winners pulled from here at WIPs and Chains, Twitter, & my "Fans of Heidi Betts" Facebook page.  Which means you have three chances to win, so if you aren't following me on all three yet, be sure to do so now!
  To enter as a Darling of the Dungeon, leave a comment with the code "WIPs"
  To enter as a Twitter follower, leave a comment with the code "TWEET"
  To enter as a Fan on Facebook, leave a comment with the code "FB"
  If you follow me all three places, feel free to use all three codes, each of which will count as an entry.  (See—three chances to win if you're a dedicated fan of Miss Heidi & her books. :winkwink )
  U.S. residents only, please, due to high international postage costs.
  Winners will be announced during our "Happy Sunday" post this coming Sunday, January 22nd.
Good luck!  And remember, it's for the kitties! :kitty
Comments
30 Comments • Comments Feed