Ah, yes, Fall—the time of year when all-things-pumpkin (& pumpkin spice) appear. :cheer:
Not that I'm complaining; I happen to love pumpkin as much as the next person.  I could eat pumpkin pie 24/7, as long as it was spicy enough. :squirrel2:
But since I can technically get pumpkin pie any time of year, its seasonal appearance doesn't thrill me nearly as much as this:
That's right—Fall is not just pumpkin season, but Count Chocula season! :dancin:
I don't know if I've mentioned my love of & mild obsession with Count Chocula before or not.  I haven't had it in a reealllly long time because I was pretending to be an adult & eating more grown-up cereals like Kix or Rice Krispies. :snowball:
But then I gave in to temptation & bought some Lucky Charms…which is apparently a gateway cereal, because the next thing I knew, I was searching for Count Chocula like it was a dropped contact lens. :shocked:  Never did find it, though, & a bit of research informed me that Count Chocula—as well as its sister (or would it be brother?) cereals, Boo Berry & Franken Berry—are seasonal.  Available at only a certain time of year.
I do not approve of this, in case you were wondering. :windy:
But since they are available only once a year—right now, as a matter of fact!—you can imagine my reaction when I spotted them at the grocery store.  Yeah, it was pretty much a spectacle that attracted a lot of attention, but what the heck do I are? :jumping:
And I picked up an entire pallet—14 boxes—to bring home with me.  It may or may not be my only Count Chocula purchase of the season…& you have no idea how hard it was for me not to Buy All The Cereal!!! :bashful:
So if you're a fan, get out there & stock up on your favorite monster cereal now!  There's no telling how long it will last. :squirrel: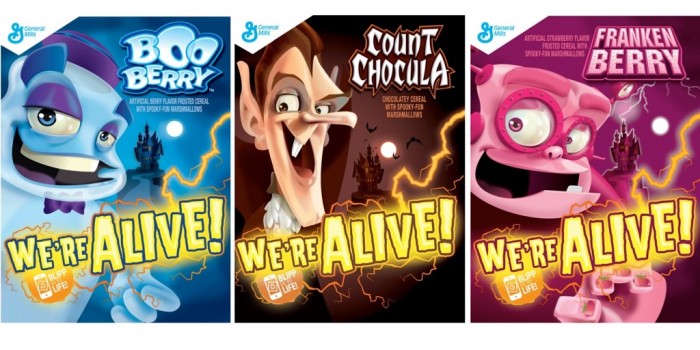 Comments
15 Comments • Comments Feed