Whoo-hoo!  I just love getting a first glimpse at new covers.
Now, I have to warn you that my editor asked me please not to share this yet, as it hasn't been officially finalized.  And normally, I would totally respect that.  (Believe me, I've held my tongue for nearly a week now, which was not easy.)  But when I spotted it on Barnes & Noble already, I figured all bets were off.  I mean, you can go there & see it for yourself whether I post it here or not, so…why not post it here? (Sorry, CG. :pain: )
So here you go, the wonderful new artwork for my December Silhouette Desire, INHERITING HIS SECRET CHRISTMAS BABY. (Dynasties:   The Jarrods, Book 6.)
Do you lurv it as much as I do? :inlove:
By the way, it's also up at Amazon now, which means, you know…PRE-ORDER! (Hint, hint. 😀 )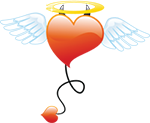 Thanks to our own Darling Laura for finding this gorgeous picture of Connor Drake, the hero from "All I Vant for Christmas" in THE BITE BEFORE CHRISTMAS.
Mm-mm. I would not mind spending a little time under the mistletoe with him, even if biting were involved. :vampire: