It's finally here! As of today, ONE WEDDING, TWO BRIDES is officially on sale, available in both digital and paperback.
I hope you'll check out this sexy, funny Book of My Heart and let me know what you think once you've had a chance to dig in! ❤️
Sometimes you have to kiss a lot of frogs…
Jilted bride Monica Blair can't believe it when she wakes up next to a blue-eyed, smooth-talking cowboy in the middle of nowhere and with a ring on her finger. It had sounded like a great plan at the time. Get married, get revenge, and get her money back. So why is she cleaning out stables and trying to keep her hands off the hot cowboy helping her?
Ryder Nash would have bet his best Stetson that you'd never see him walk down the aisle. But when the city girl with pink-streaked hair and a frog tattoo hatches a plan to expose the conman who married his sister, no idea is too crazy. And even though Monica might be the worst rancher's wife he's ever seen, he can't stop thinking about the wedding night they never had.
What was supposed to be a temporary marriage for revenge is starting to feel a little too real…

Grab Your Copy Today!
Entangled :: Amazon :: Amazon Canada :: Amazon UK
Amazon Australia :: Barnes & Noble :: Apple iBooks :: Kobo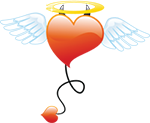 ONE WEDDING, TWO BRIDES releases tomorrow—squee!!! ???—but today is the FINAL DAY to enter the "One Wedding, Two Brides, Three Chances to Win" Contest!
If you haven't already, sign up to receive my newsletter: http://heidibetts.com/newsletter
On Wednesday, I'll announce the five (5) winners—three (3) will receive Kissy-Lip Chip Clips + a signed book…two (2) will get their choice of one of my "Chicks with Sticks" titles + a $10 Amazon gift card…& one (1) winner will receive a gift basket full of fabulous goodies, including a Hula Dancer Nightshirt (just like the one Monice wears in ONE WEDDING, TWO BRIDES! ?), a Kissy Lips goblet filled with Hot Lips sweet cinnamon candies, coconut sparkling water mix, watermelon-key lime fizzy drink mix, a set of Kissy-Lips chip clips, "Looking for a few good Princes…" cocktail napkins, an engagement ring ice cube tray, a "I try to live simply, but DRAMA just keeps following me around!" notepad, an adorable frog prince figurine, & a $25 Amazon gift card!
So if you're not on my mailing list yet, there are about 52 reasons to SIGN UP NOW!!!!!! ????c