"I mean, sure, I lie. Everyone lies."
(The New Adventures of Old Christine)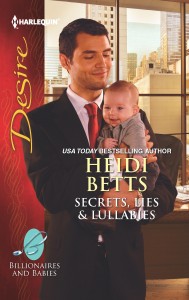 Lying is bad, right?  But everybody does it.  Little lies, big lies…lies that are sometimes accidental & sometimes very deliberate.
In SECRETS, LIES & LULLABIES, Jessica tells Alex some whoppers, but they are definitely lies she feels forced to create.
So today I'm wondering…
What's your LIE?
Here's one of mine:
While I was growing up, my mother used to say I was like two different people—Heidi when I was happy & in a good mood, evil twin Helga when I was in a bad mood or throwing a fit.  And when I went away to college, I actually managed to convince a couple of friends that I was a twin.  I mean, I totally & completely had them going…with no intention of ever coming clean.
Then one day, my parents came to visit quite unexpectedly.  I was at class, so they knocked on my friends' door instead.  And darn them, they came right out & asked my mom if I was a twin.  And of course she answered honestly because she's a lot less devious than I am. :peekaboo
But to date, that is my biggest, most successful, & longest-running lie.  I could have kept them believing it, too, if it hadn't been for those meddling parents! :steamin
Now for you…what's the best, worst, or maybe just funniest lie you've ever told?

Where to Buy LULLABIES
Amazon :: Kindle ebook :: Barnes & Noble :: NOOK ebook
eHarlequin :: Books-a-Million :: Indiebound ::
The Book Depository (free international shipping)
!ndigo :: Amazon.ca

Comments
4 Comments • Comments Feed