Today's cookie recipe is one of my favorites.  Madame Mommy Dearest actually created them for my brother, who absolutely loved the movie E.T. when he was a little boy.  But we're talking chocolate & Reese's Pieces here, so you know it wasn't long before I came along & started gobbling them up. :spaghetti
E.T. COOKIES

Ingredients:
1/2 cup butter, softened
1/2 cup granulated sugar
1/2 cup packed brown sugar
1 1/2 cups peanut butter
2 eggs
2 tablespoon milk
1 teaspoon vanilla
1/2 cup unsweetened cocoa powder
1/2 teaspoon baking soda
1 1/2 cups flour
2/3 of 10 oz. bag of Reese's mini-Pieces
Directions:
Preheat oven to 325.
Line cookie sheets with parchment paper.
In large bowl, cream butter, sugars, & peanut butter.
Add egg, milk, & vanilla. Beat well.
Add cocoa powder, baking soda, & flour. Mix well.
Add Reese's mini-pieces. Stir.
Drop by spoonfuls onto prepared cookie sheets.
Bake 9 minutes, or until tested done with toothpick.
Cool on wire racks.
Oh, yeah. :gingerbread   These are so yummy, it's not even funny.  They taste great with a big glass of milk, & even better if you eat them while watching E.T. for the 4957th time.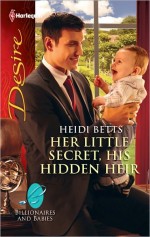 Only two more weeks until HER LITTLE SECRET, HIS HIDDEN HEIR hits the shelves!  I hope you've added the date—June 7th!—to your calendar already.
I can't wait for you to be able to read this story so we can start talking about the goodies Vanessa makes in her Sweet Spot recipe!  Then things are going to get really interesting. :cookinme
If you'd like to collect even more great recipes, or maybe share a few of your own, be sure to sign up for my HappyBookers YahooGroup. We're doing a bit of a recipe swap over there, as well, to celebrate the yummy bakery angle of HER LITTLE SECRET, HIS HIDDEN HEIR. :flip
Comments
6 Comments • Comments Feed