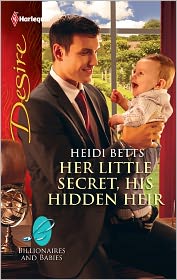 All right, brace yourself. I have got another fabu recipe for you, in honor of my new Harlequin Desire release, HER LITTLE SECRET, HIS HIDDEN HEIR.
These are the instructions for something I like to call HOMEMADE REESE'S CUPS.
Oh, yeah.  I told you it was going to be good.  And it's also super-easy.  You can make these anytime.  For dessert…for breakfast…for a midnight snack…for those times when you're in a funk & will lick candy off the sidewalk, if you have to. :hide
INGREDIENTS:
1 cup or bowl chocolate pudding OR 1 chocolate pudding cup (brand of your choice)
1 jar Smucker's Natural Peanut Butter (creamy or chunky) OR Smucker's Reduced Fat Natural Style Peanut Butter (creamy or chunky)
1 spoon
DIRECTIONS:
Open jar of peanut butter. (If it's never been opened before, pour off oil that collects on top. Dab with paper towel to absorb excess, leaving you with just peanut butter.)
Open pudding cup, if necessary.
Using spoon, dip into peanut butter jar, removing approximately one (1) teaspoon of peanut butter per scoop.
Dip spoonful of peanut butter into pudding. Do not scoop, simply submerge peanut buttered portion of spoon into pudding and remove.
Enjoy!
Repeat until pudding is gone.
(Serves 1—on account of all the double-dipping. :tongue )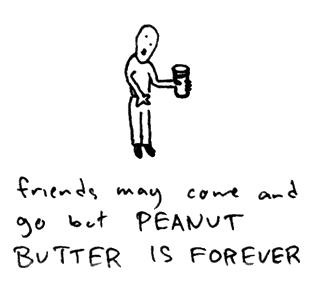 Now, I'm sure you're probably wondering, "Why do I have to use Smucker's Natural Peanut Butter?  Peanut butter is peanut butter.  I can use any kind I want, right?"
Sure you can.  But hear me now & believe me later—Smucker's Natural is how you get that really nutty, authentic Reese's Peanut Butter Cup taste.  And the closer you get to the bottom of the jar, when the peanut butter starts to get drier & kind of chunky…mmmmmm, that's when Homemade Reese's Cups are at their finest.  Other peanut butters are okay, but they're smoother, have more oil in them, & just aren't the same.
So if you like chocolate & peanut butter & are good at rationalizing that eating this sort of thing is way healthier than eating an actual Reese's Peanut Butter Cup…well, you're about to enter the Gates of Heaven.
A FRIENDLY REMINDER:  If you haven't yet picked up your copy of HER LITTLE SECRET, HIS HIDDEN HEIR…or have, but haven't started reading it yet…be sure to do so soon.  I really am working to put up fun book-related posts with bits of trivia & such that I'll be using for upcoming giveaways.  Watch for the posts & the giveaways to pop up over the next couple of weeks.

For more great recipes & fun chit-chat, be sure to sign up for my HappyBookers YahooGroup. There's always something going on with the loop—including monthly giveaways—& you can collect or share recipes to your heart's content. :flip
Comments
7 Comments • Comments Feed