I'm celebrating the release of HER LITTLE SECRET, HIS HIDDEN HEIR today with a Cyber Launch Party at AuthorIsland.
I hope you'll come over & join me for what's sure to be a super-fun discussion.  And there will be a giveaway—THREE winners will get to pick a Silhouette/Harlequin Desire of their choice from my backlist!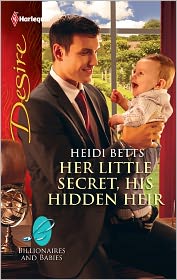 HER LITTLE SECRET, HIS HIDDEN HEIR is HERE!  Yes, it's true…after all this time of waiting & talking about it, you can finally get your hands on "The Bakery Book." :chick
And in case I haven't mentioned it a time or twelve before, one of the very best recipes I have to offer is actually inside the book.  Chocolate Peanut Butter Pinwheels.  So if you want to taste Heaven in cookie form, be sure to pick up your copy asap. :eats  Whether you decide to read the book first or bake the cookies first…that's totally up to you.  And if you're really good, you may be able to do both at once. :cookinme
But because I am so kind & generous, so selfless & giving :devang I am still willing to continue sharing even more delicious recipes with you right here at WIPs and Chains.
Today's recipe is pulling double duty.  It's like the Superman of yummy desserts because it can go from mild-mannered banana bread to the solution for all of your mental incapacitation problems.
I call it Writer's Block Bread, because when I first started writing, Madame Mommy Dearest used to make this for me whenever I ran into trouble with a story & the words wouldn't come.  Now, I don't know if it's the process of actually making the bread, the smell of it baking, or the highly enjoyable act of eating it once it's ready, but something about this particular banana bread recipe really does help to shake out the cobwebs & get my brain running in the right direction again. :doh
I have it on good authority, though, that you don't have to be a writer for it to work.  It seems to help with all kinds of Blank Brain Syndrome.  I'd even be willing to challenge you to give it a try the next time you just can't seem to think, think, think, no matter what cerebral-heavy project you're working on. :argh
WRITER'S BLOCK BREAD
(a.k.a. Banana Nut Bread)
Ingredients:
1/2 cup (1 stick) butter, softened
3/4 cup brown sugar
2 eggs
zest of one orange
1 teaspoon each orange juice & vanilla extract
2 cups flour
1 teaspoon baking soda
1/2 teaspoon salt
4 ripe bananas (frozen, then thawed peeled, & patted w/ paper towels)
2/3 cup chopped nuts (I use a mix of walnuts & pecans)
1/2 cup mini chocolate chips
Directions:
Preheat oven to 350 . Grease & flour 2 loaf pans.
In large mixing bowl, stir until blended: butter, sugar, eggs, zest, & orange juice.
Add flour, baking soda, & salt. Mix well.
Fold in bananas which have been cut into 1/2 inch chunks.
Add nuts & mini chips. Stir batter. Divide evenly into prepared loaf pans.
Bake 35 to 40 minutes or until toothpick inserted in center comes out clean.
Place loaves on wire racks for 10 minutes before removing from pans.
After completely cool, place loaves in plastic bags or foil & refrigerate.
Slice loaves while cool (not room temperature) so chocolate chips don't stick to knife.
(Note:  You can also make this recipe in muffin form, but you're on your own when it comes to figuring out the baking time.)

For more great recipes & fun chit-chat, be sure to sign up for my HappyBookers YahooGroup. We're doing a bit of a recipe swap over there, too, in anticipation of HER LITTLE SECRET, HIS HIDDEN HEIR's release, so you can collect or share recipes to your heart's content. And talk about some of the recipes you've seen (& tried?) here in The Dungeon—the good, the bad, & the fattening—too, if you like. :flip
Comments
10 Comments • Comments Feed