Even if I haven't been paying attention, I can always tell when the release of a new book is getting close because the reviews from all those ARCs I sent out start rolling in.  Thankfully, most of them are good ones.  Some are even fan-tabulous! :getdown
And of course I'm going to share them with you. (It may be Monday, but I'm pretty sure this will only whet your appetites for tomorrow's Tease Me Tuesday. :wink )
This one comes from our very own sometimes Darling Debby at SingleTitles.com: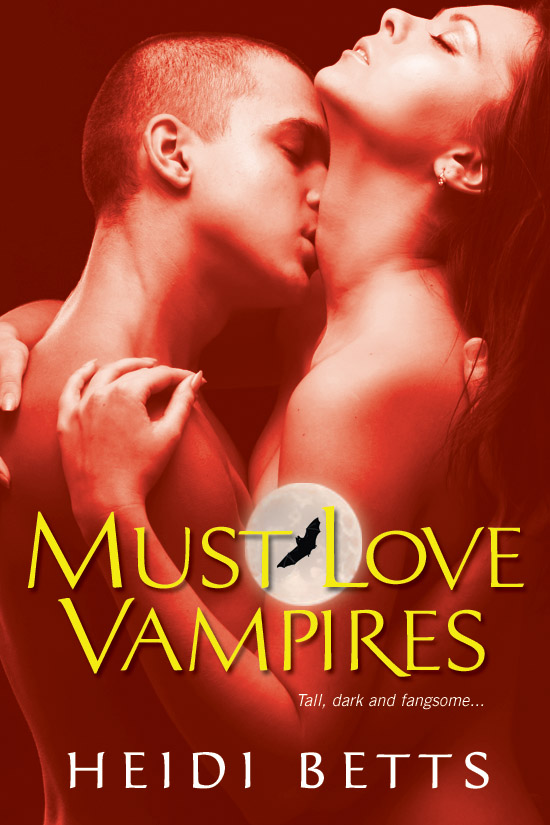 "Heidi Betts pens another culinary masterpiece for our reading pleasure—Must Love Vampires
Nightclub dancer, Chloe Lamereaux, is sure Aidan Raines is the answer to all her needs. He is charming, rich and very sexy. He is also a bit mysterious and has a few secrets. Even if he does not like the sunlight, he asked her to marry him and she is going to do just that. Chloe has a few secrets of her own, but there is time enough for that after the wedding.
Charlie, Chloe's twin sister, is convinced there is something not right with Aidan and his brother, Sebastian. Convinced the two are vampires, she decides to get the story of her life for her little tabloid paper. She convinces Chloe to let her take her place at the nightclub when her shadowing of him gets her nowhere. Charlie is soon in over her head when the seductive, mysterious Sebastian has her at his mercy. Are they looking for more than just some hot loving?
Two sisters and two brothers find each other under usual circumstances but find wonderful love in the process. Charlie and Chloe in many ways were opposite as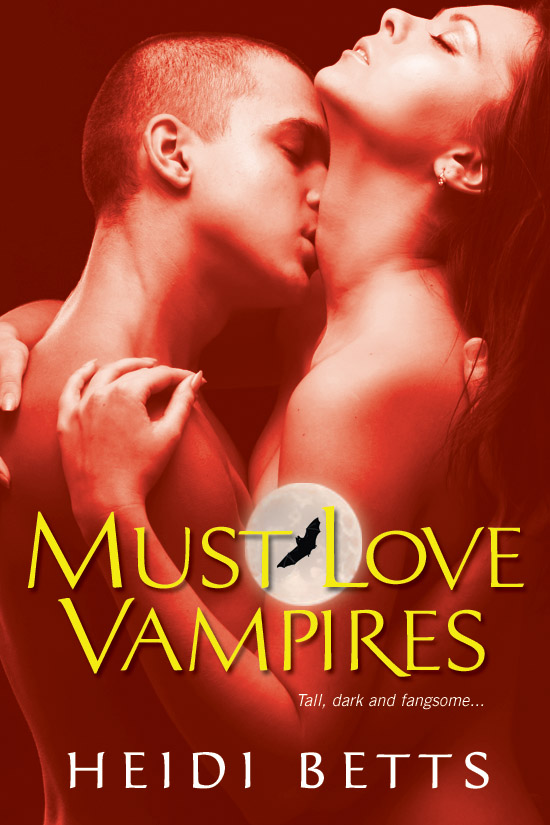 were Sebastian and Aidan. Read Must Love Vampires to experience the rush and the dance as these four find their love.
Heidi Betts is truly a Master of Metaphor, or perhaps just skillful at similes or handy with humor. However you label her, Must Love Vampires is filled with humor, metaphor, and similes, used in such a way as to delight and entrance the reader. Must Love Vampires will take its place on your keeper shelf."
Whoo-hoo! Oh, yeah…  Thank you, Debby! :getdown    So glad you enjoyed it, & thanks for all the great quotable quotes.  I'm going to wear them out, that's for sure. :howyoudoin
Where To Buy
Amazon :: Kindle ebook :: Barnes & Noble :: NOOK ebook
Book Depository (free international shipping)

Comments
7 Comments • Comments Feed