Another wonderful review for MUST LOVE VAMPIRES!
5 stars from Fang-tastic Books—yaaaaaay!  And I love this one, because she sums up the tone of my paranormals so beautifully…& in a way I sometimes have trouble describing on my own: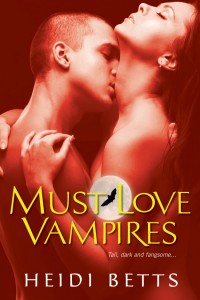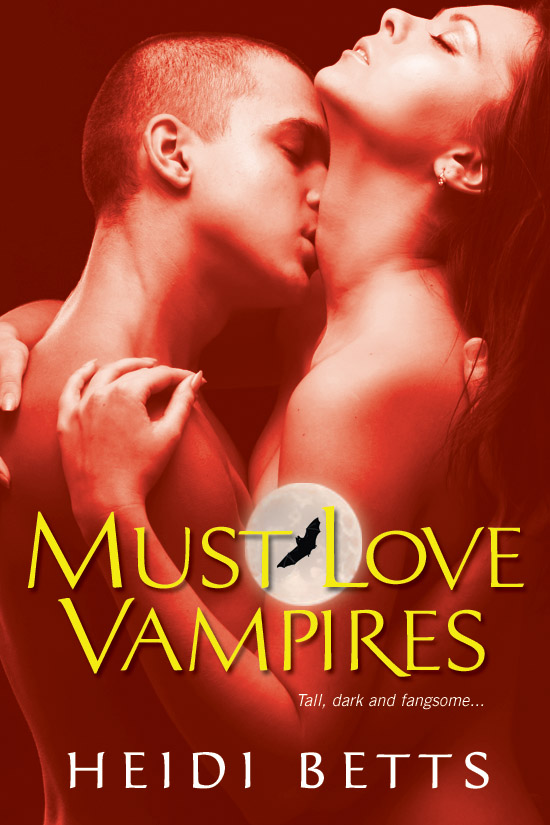 This has to be the sweetest vampire romance I've ever read.
Heidi Betts has taken vampire romance to a different level. She's taken out the darkness and death and given us what we really crave in a romance novel—the romance.
This is a classic romance novel—the sexy main man (men in this case, since this is two stories in one) are everyday guys—who just happen to have fangs, drink blood, and have a tendency to get third degree burns if a stray ray of sunlight touches their skin.
And it was wonderful.
What a refreshing escape from all the darkness and death that usually comes with any paranormal romance or urban fantasy. Someone is always running form someone else, there's a bad guy or guys, power struggles, and death—lots of it.
Betts strips away all that and leaves us with the basics. Man + woman + inner doubts and conflicts = standard romance with a fangy bonus.
In story one Charlotte (aka Chuck) is a journalist on a case that could make her career. She's out to prove Las Vegas mogul Sebastian Raines is a vampire. To do this she has to get close to him. Thankfully her twin sister Chloe is a showgirl at his casino, one night she takes Chloe's spot- and gets to closer to Sebastian than she ever thought possible.
Sebastian is out to prove that Chloe, who happens to be involved with his younger brother Aidan, is just a gold digger out for his money. He abducts who he thinks is Chloe to probe her for information. Too bad he finds himself inexplicably attracted to her much to his chagrin considering this is his brother's girl. Or so he thinks when he glamours her. Too bad that goes kinda wrong, too.
In the second part of the book, Chloe is using her night off productively with Aidan. In the light of day though a few things are revealed that make her wonder if she was wise in her choice. But hey she had kept a secret from Aidan too so they were even, right?
But how would their secrets affect their life together?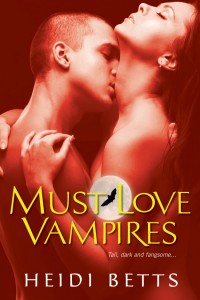 In the end did they hit the jackpot or gamble everything away?
There's humor (I giggled out loud several times), steaminess, and a few of those heart-stopping moments that make us crave romance novels.
Heidi Betts hit the jackpot with a sweet romance, that just happens to contain fangs.
:dancingbat   Whoo-hoo! Thank you so much, Roxanne!  That is one for the scrapbook, for sure.
Where To Buy
Amazon :: Kindle ebook :: Barnes & Noble :: NOOK ebook
Book Depository (free international shipping)

Comments
2 Comments • Comments Feed