Only one short month before my brand new Harlequin Desire, SECRETS, LIES & LULLABIES hits the shelves.  Or ships from online retailers…or becomes available for download… Pick your poison. :drink
So it's time to start teasing you mercilessly with blurbs & excerpts & trivia about this story!
Ready?
Here's the cover, which I absolutely love…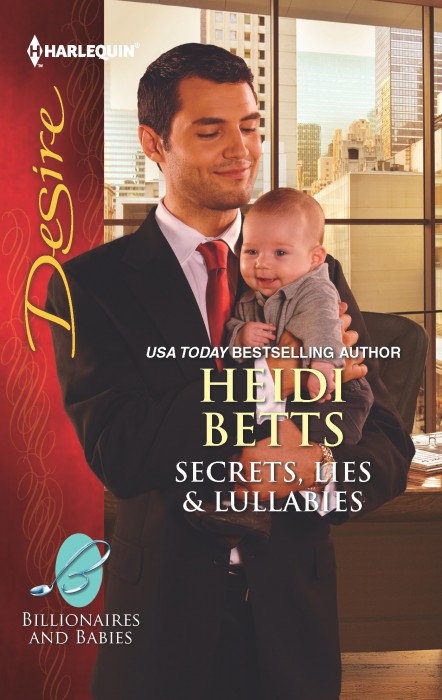 Do you love it, too? :lipstick What's your favorite thing (or things) about it?
And here's the equally great blurb…
ROCK-A-BYE BILLIONAIRE
No problem's too big for CEO Alexander Bajoran…until a baby is left in his boardroom with a note stating he's the daddy. The mother must be Jessica Taylor, an unforgettable though regrettable one-night stand. Why would she do such a thing?
When Jessica returns, desperate and remorseful, there's no way Alex will let her walk away with his son. And after discovering that she's connected to his jewelry empire's biggest rival, the mogul wonders if the pregnancy really was an accident. What will he gamble to keep his heir…and the woman who still has a stranglehold on his heart?

Pre-Order Your Copy Today
Amazon :: Kindle ebook :: Barnes & Noble :: NOOK ebook
eHarlequin :: Books-a-Million :: Indiebound ::
The Book Depository (free international shipping)
!ndigo :: Amazon.ca

So what do you think? Any questions yet about the story? Maybe I can fill you in a little more in the coming weeks before the book's release or add a few notes to my list of trivia. :howyoudoin
Comments
6 Comments • Comments Feed