Please join me in welcoming Harlequin Blaze author TAWNY WEBER to The Dungeon! :booby   Tawny was kind enough to invite me to participate in a "Quick Six" post on her own blog a couple of months ago, so I thought it was only fitting that I invite her to spend the day with us here at WIPs and Chains.  Of course, I don't think I mentioned that spending a day with us often involves a bit of light torture & good-natured embarrassment.  Shhh…don't tell her—let her discover that part for herself. :butt
Tawny has been writing sassy, sexy stories for Harlequin Blaze since her first book hit the shelves in 2007. When not obsessing over deadlines, she's shopping for cute shoes, scrapbooking, or hanging out on Facebook and Twitter.  You can visit her on the web at www.TawnyWeber.com.
And now, let the torture begin…
What is your favorite color?  Purple! A deep, rich purple that leans toward indigo but has just a gloss of pink.
Favorite song?  "Sweet Child of Mine" by Guns N Roses.
Favorite movie?  The "Harry Potter" series.  I know there are eight of them, but it's really all one long story, right?
And of course, favorite book?  Oh, this is tough! I think I'd have to pick Nora Roberts's "Three Sisters" trilogy. Like my favorite movie, I'm going with the "it's all one" excuse to pick more than one book. *g*
What was the first book in your chosen genre that you remember reading, or that made you want to write the same?  Vicki Lewis Thompson's Notorious. I love Vicki's writing. The humor, the sexy tone, the incredible characters. Nora Roberts makes me want to be in love, Vicki makes me want to write about love.
What do you think of Heidi? She's great, right?  Heidi rocks!!  (Note from Heidi: Thank you, thankyouverymuch.

)
How did you get started writing?  When my youngest daughter was about a year old, I was at a crossroads of what to do, career-wise. My husband asked me what I would choose if I could do absolutely anything in the world—if I could wave a magic wand and make my career dream come true, what would it be? I said I'd be a romance writer. But I had a major case of hero worship toward authors. I figured it was a dream out of my reach since I had no writing experience, outside of high school creative writing classes. But my husband is a sneaky kind of guy, so he dared me. So I hit the internet, and everything I found pointed to Romance Writers of America. I joined, I took workshops, I entered contests, and I wrote like crazy.
Tell us a little bit about your first (or most memorable, if you prefer) sale.  In April of 2006, I attended a regional conference that Blaze senior editor, Brenda Chin was at. We talked a little about a partial I'd sent her. It had won the Blaze contest, and had just become my third Golden Heart final. I'd told her I'd have the full to her the next week, and mentioned that I probably wouldn't be attending RWA's national conference because even with a Golden Heart final, I just couldn't justify the expense of conference without a sale. About five weeks later, on Memorial Day, the phone rang just before 9am. I was fast asleep, but my husband was home and answered, then woke me up with a frantic, "It's Harlequin!" Brenda told me to book my flight and pack my suitcase, because I was going to conference. 😀 Thankfully I was still half asleep, or she wouldn't have needed a phone to my screams of joy all the way in Canada. LOL  The downside to the half-asleep part was that it felt like a dream. And because it was a holiday, I couldn't reach any of my writing friends to share my news, so the surreal "not real" effect lasted until Tuesday when I called Brenda to double check.
Fill in the blank—If you like [blank], you'll love Tawny Weber!  Sexy sass!
Which of your books would you like to pimp today? Tell us about it and why we'll love every word.  Oh, let's talk Sex and Lies. Or better yet, SEX, LIES AND MISTLETOE! My December Blaze kicks off my "Undercover Operatives" series with the adventures of the Black siblings and their patriarch, a renowned con artist. In rebellion against his father's criminal ways, Caleb joined the DEA when he left home. Now he's burned out, disillusioned, and ready to be done. This is a home-for-the-holidays story that features aphrodisiacs, hot sex, and that always fun question: What should I do with my life next?  I hope you love it because it's a light, sexy story that packs a strong emotional punch!
I'd also like to mention that the second book in the series, SEX, LIES & MIDNIGHT, will be on shelves in January, quickly followed in February by SEX, LIES & VALENTINES!
If your plane crashed in the Andes, would you convince the other survivors to eat Heidi first or last?  ROFLMAO. Well, given that I'm a vegetarian, and an avowed anti-cannibal, I'm going to say I'd pimp Heidi out as our brilliant survivalist who'd guide us to most delicious roots and herbs, all while entertaining us with fabulous stories. After that, they'd all be horrified at the idea of eating her first!  (Further intrusive note from Heidi:  Oh, I like this answer very much!  It would definitely make me want to eat you last. *g*)
If you could write anything—whether in the same genre/sub-genre as you're writing now or another—what would it be?  I can't imagine writing anything but romance. I would love to see lighter paranormal come back, though. If I wasn't writing sexy contemps, I could totally get on board with writing a fun, light paranormal.
What are you currently working on?  I'm working on a Blaze for next December. The working title is The Panty Thief Caper, but I'm guessing my editor will change that. LOL The story is about…wait for it…a panty thief! And, of course, the woman whose panties he stole, and the cop out to solve this sexy holiday crime.
LIGHTNING-FAST LASHES:
Leather or lace?  Leather, with a hint of lace peeking out
Devil or angel?  Devil
Angel food or devil's food?  Devil's food
Hemlock or arsenic?  Hemlock
Blood, sweat, or tears?  Tears
Boxers, briefs…or commando?  Commando…it's so much faster. 🙂
Cowgirl or missionary? (Hey, get your mind out of the gutter. I was simply asking what you wanted to be when you were growing up.:-p)  LOL I wanted to be a gypsy growing up. Cowgirls had to deal with dirt and sweat, and there's nothing missionary about me.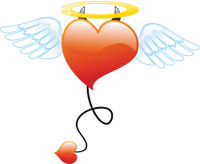 What a great interview—thank you so much, Tawny!
Be sure to follow Tawny on her Holiday Survival Tour as she celebrates these three books with contests, giveaways, and lots of fun. You can also read the first chapter of SEX, LIES & MISTLETOE on her website: www.TawnyWeber.com  All you have to do is join the Reader LoveFest!
Tawny has also generously offered to give away an autographed copy of SEX, LIES AND MISTLETOE to one lucky blogger who stops in to chat with her today.  And no restrictions!  Overseas readers, this means you've actually got a shot at this one! :reindeer2
To enter, simply leave a question or thought-provoking comment for Tawny.
As usual with Dungeon giveaways, the winner will be announced during our Happy Sunday post on Sunday, December 11th.  The winner is also responsible for contacting me with her mailing information once the announcement has been made.  I will forward it to Tawny, & Tawny will send your prize at her earliest convenience.
Good luck & enjoy your time with Tawny! :icecube
Comments
48 Comments • Comments Feed