Ahoy, mateys!
It's here!  It's finally, finally here!
(No, not MUST LOVE VAMPIRES.  Though that is right around the corner. :vamp )
National Talk Like a Pirate Day is finally here!  I've only been waiting for this since about September 2oth of last year!
So what have we done in the past to mark this momentous holiday?  We've made lists of our favorite pirate movies & books…  We've shared pics of our pirate—& pirate wench—costumes…  We've talked like pirates, of course, & named our favorite from the big screen & raunchy romantic literature…
I think we should do all of that again, if we want…especially talking like pirates.  I mean, it's called Talk Like a Pirate Day so that's kind of a requirement!  But otherwise, it's a Talk Like a Pirate free-for-all!
I'm going to provide you with a recipe for some hearty pirate grog (which can also be considered our Drink of the Month, if you like) & then let me buxom beauties decide what else we should do to celebrate.
And fair warning—any swashbuckler who thinks her peg leg is too good to participate will be forced to walk the plank!
Pirate Punch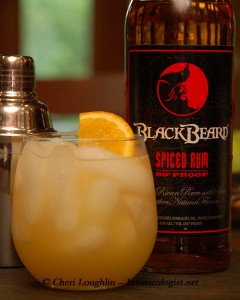 Ingredients:
32 oz. can pineapple juice
12 oz. can orange juice concentrate
6 oz. can lemonade concentrate
5 cups cold water
1 quart 7-UP
Directions:
Mix 'em up, serve, & start drinking like a pirate who can handle her…well, there's no liquor in this, but still!  Enjoy!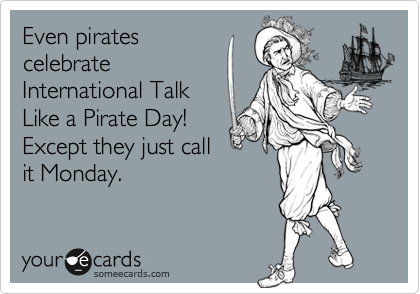 Comments
14 Comments • Comments Feed