All right, My Darlings…get ready to help out your supreme Mistress!
:sexyelf:
I posted this question to the readers on my Fans of Facebook page & Twitter over the weekend, but since I'm still slightly undecided, I'm going to need your help, too! :cheers:
Since I just finished Robyn Carr's A Virgin River Christmas, it's time to start my next holiday-themed romance of the season. :cozyread:
I've narrowed it down to two, but now I'm torn! :gingerman:
That's where you, my dedicated & ever-so-knowledgeable Darlings of The Dungeon come in. :ski:
I need you to help me decide between:
Lori Handeland's An Outlaw for Christmas
&
the Christmas Brides anthology with stories by Suzanne Enoch, Alexandra Hawkins, Elizabeth Essex, & Valerie Bowman.
:prezzies:
(of course, I've got the original release, so mine looks like this: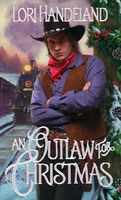 )
So what'll it be, my Darlings?  I want to start reading one of these right away, so your vote definitely counts.  Help a girl out for the holidays, would ya? :snowflakes:
Which of these Christmas romances should I read next?
Comments
4 Comments • Comments Feed