I talk a lot about The Kittehs, both here in The Dungeon & elsewhere online, because they're such a big part of my life. Oh, who am I kidding—they are the bosses of me…  The points around which my entire world revolves..  The reason I wake up in the morning…  And some days the only thing that brings a smile to my face.

So how would you like to meet them?
I'll start with my eldest child, since her age ought to earn her perks of some kind. :mat27
Name:  Precious
Nicknames:  Miss Precious, Elder Kitty, The Divine Miss P, Precious Pumpkin Pie, Phantom Kitty
Likes:  long naps on her favorite Snuggie on my bed or in her favorite cubby cube in my closet … eating, often with her fingers … sleeping on Mama's lap, especially while being brushed … grabbing at dangling strings …
Dislikes:  being pestered by the other Kittehs, especially if they get too close while she's napping … an empty food dish … being asked to eat the same flavor food more than twice in a row … a breeze of any kind …
Origins:  The last remaining cat from a litter of five that I rescued almost 18 years ago.  Born in the garage/barn of a high school friend, her father was threatening to kill them because they had warbles. :may23   I, of course, raced over & grabbed them all up. :May10   Took them to the veterinarian (in a laundry basket, no less, with them crawling around like squirrels) to have the warbles removed, then needed to nurse them for a couple of weeks, but I had every intention of trying to find other homes for them.  Yeah, that never happened.  :may16 I'm just sorry that Precious is the only one left.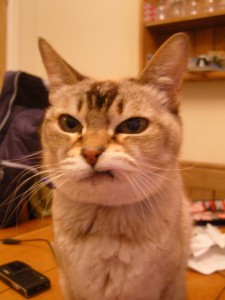 About:  Miss Precious is—as my dad would say—in pretty good shape for the shape that she's in.  She'll be 18 years old this summer, which is pretty impressive for a cat.  So she moves a little slowly, is getting a little skinny, has troubles with her digestion, has trouble aiming when she's in the litter pan, & is missing one of her long front teeth which occasionally makes her look like Billy Idol when she smiles.  But if purring is a sign of contentedness, then she is one happy kitty-cat!  She purrs all the time, talks all the time, curls up next to me at night, & has no qualms about biting me in the back of the head while I'm sleeping if her food dish is empty.
What I Like About…:  Where do I begin?  Miss Precious is the sweetest thing 90% of the time.  (She's only a pain in the butt 10% of the time, & that's almost always when she's being finicky about her food.)  I love the little hourglass on her nose & here beautiful green eyes.  I love the sound of her purr & how much of a talker she is, whether she's happy or unhappy.  I love that she always wants to be near me; she's fine if I'm not in the room with her, but as soon as I arrive, she wakes up & starts talking or comes to be with me.  And I especially love that she's still around.  Her brother died at age 13, & after that I expected Precious to pass away at almost any minute.  But she's like the Energizer Bunny—she just keeps going & going.  I'm so proud of her persistence & longevity!
Oh, & I love that hardly anyone else knows she exists.  Even when I was attending conferences & left her with a pet-sitter, she never let herself be seen…which is how she earned the nickname "Phantom Kitty."  Only once did my pet-sitter's little girl see her, & that was by crawling halfway under the bed.  She came out calling, "Mom!  She's real—I saw her!" :may32   Miss Precious loves spending time with me, but when it comes to anyone else, she goes into Stealth Mode. :may4
I can't even remember a time when she hasn't been in my life, so in case you were wondering—yes, I will be a basket case when she leaves me.  I watch her like a hawk, pray for her constantly, & can't even fathom the thought of her being gone without wanting to crawl under the covers, curl into a fetal position, & sob my heart out. :may38
Comments
12 Comments • Comments Feed