I admit it:  I've always kind of thought real estate agents had it easy.  Show a house, sell a house, make some outrageous commission on the sale price.
And now, I admit this:  I was SO wrong! img34
I don't know about every real estate agent, but I can tell you for a fact that my realtor works her butt off!  I cannot say enough about her patience, her understanding, her acceptance of a zillion e-mails with a zillion questions…all sent separately, because I can't seem to group all my thoughts together at once…her willingness to dig in & find out whatever information I asked about.
And then there was the paperwork.  Holy guacamole!  I had no idea how much was involved in buying & selling houses.  Pages & pages, agreement after agreement, contract after contract, detail after detail, signature after signature…  Dealing with other agents, insurance agents, bank officials, multiple inspectors & inspections…  She was there through all of it, doing the ground work before & the leg work after.
So here is my revised opinion of realtors:
Mine is worth every penny!

Or her weight in cookies, which is even better.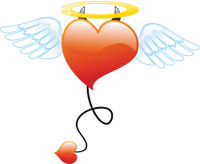 With an additional shout-out to our loan agent at the bank, who was equally totes amazeballs. img32
We've known her for a while, & she's always been great, but the way she worked with us through this seriously complicated & nerve-wracking home loan process takes friendly & professional to a whole new level.  We love her like a fat kid likes cake.  (And as a former fat kid—now a chubby adult img23 —I can tell you I reeeeeeeeaaaaaaalllllllyyyyyy like cake.  Especially the icing. img40 )
She talked us through every step, did everything she could to get us the best arrangement possible, & murmured, It's okay…it's going to be okay as many times as we needed her to—which was a lot. img26
Comments
8 Comments • Comments Feed