If you're reading this, then it means I am still sans computer/internet access.  My PC is likely still in the shop. :smash
Which means no Free Book Friday & "Guessing Game" prize winner announcements. :sadheart   But don't worry, as soon as I'm hooked up & cruising online again, I will post that information & make it up to you, I promise.  If not during the week, then during next week's Happy Sunday post.  Just keep checking back—I won't leave you hanging for long, I swear!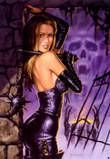 And since I am getting this post together a good week in advance—just in case—I'm going to make it one of our famously fun "Out of the Cage" Nights.  (Or days, as the case may be.  :thumbsup )
What does that mean, exactly?  Well, it's a bit like Open Mic Night at your local coffee house.  Anything goes, & it's all up to you guys, since I am currently incommunicado.
Pick a topic & go with it!  Or start talking about several topics at once.
Here, I'll get you started with a few off-the-chain ideas…
Timothy Olyphant in Justified
the Hawaii Five-0 guys
rising fuel costs
Mistress Heidi's plans to raise the rent on Dungeon space (hey, if you want to spend private time with your Dungeon hotties, ya gotta pay to play :devil )
my upcoming Harlequin Desire, HER LITTLE SECRET, HIS HIDDEN HEIR
my upcoming vamps-in-Vegas romance, MUST LOVE VAMPIRES
Sesame Street
The Muppets
Fraggle Rock
Just pick something—or a bunch of somethings—& go with it.  But most importantly, have fun & ENJOY! :party
Oh, & did I mention…open bar! :beerlaugh
Comments
11 Comments • Comments Feed