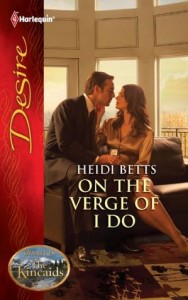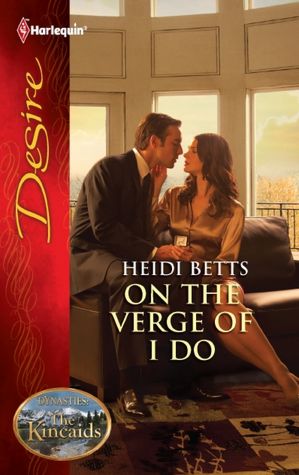 I'll be switching gears soon, posting almost ad nauseum about the paperback release of MUST LOVE VAMPIRES in September.  But I can't let ON THE VERGE OF I DO fade away without one last hurrah!
Anyone who's read Kara & Eli's story knows that while their story definitely ended with happily-ever-after, it didn't end in wedding bells.  That's because, as part of the "Dynasties: The Kincaids" continuity series, another author (Tessa Radley) got to write that scene.
I'm more than a little jealous, too, let me tell you. :evilmonkey    Because I had ideas & would have loved to round out the end of my book with such a big event for my two amazing characters.
But Tessa was great.  When it came time to start writing her book—which was going to open with Kara & Eli's wedding—she asked for my input on the ceremony.  What kind of dress would Kara wear?  Where should it take place?  What changes from Laurel's wedding plans to Kara's wedding plans (remember:  Kara hijacked Laurel's wedding soon after she hijacked Laurel's fiance :howyoudoin ) did I think should be mentioned?  Etc.
So we had a nice, long chat about what differences we thought there would/should be, given the sisters' different personalities & ideas for a "dream wedding."
Since Laurel was the older, more serious sister, I told Tessa I'd described her wedding dress in ON THE VERGE OF I DO as more classic & old-fashioned.  Something like this:
What do you think? Do you think they suit Laurel's character?
Of course, she never got to wear her dress in my story. Instead, she handed over her wedding plans to her younger sister & let Kara tweak things to suit herself.
And I had some definite ideas for Kara's dress. :eeee   Think Cinderella meets Scarlett O'Hara.
I'm right, too, aren't I? She was gorgeous. :happysun
But I never got to write this scene for Kara & Eli, so I never got to pick the exact dress I would have put her in. And maybe that's a good thing, because I love them all & don't know if I could pick just one. :nowait
How about you?  Which would you put Kara in for her walk down the aisle?
Comments
10 Comments • Comments Feed