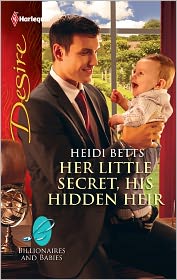 TOMORROW is the day!  If you haven't already lucked out & found an early copy of HER LITTLE SECRET, HIS HIDDEN HEIR at your local bookstore or Wal-Mart (or Target or K-Mart or Meijers or grocery store *g*), tomorrow is the day it will officially go on sale! :getdown
In fact, HIDDEN HEIR has already been spotted at a few Meijers stores, according to our very own Darling Laura J. & both Amazon.com & BN.com now have it listed as "in stock" & available for purchase. Yippee! :getdown
And if you have picked up your copy of HER LITTLE SECRET, HIS HIDDEN HEIR already, then A.) thank you, thank you! :hippie & B.) I hope to heck you're enjoying it! :babybook
As I mentioned once before, I have a couple of great giveaways in mind once HIDDEN HEIR really is out & about & you've all had a chance to read it.  A bit of a Q&A, with you guys in the hot seat for a change. :sexy  So I hope you'll all move it to the top of your TBR pile & pay really close attention to the story, as well as some of the related blog posts here at WIPs and Chains, in order to answer a few fun questions later. :howyoudoin
Now for today's previously promised entertainment…  I'd like to introduce you to VANESSA MASON KELLER, the feisty & headstrong heroine of my latest Harlequin Desire release, which I loved writing so, so much, you can't even imagine. :jump
Face-to-face with his ex-wife again, millionaire Marcus Keller received more than a jolt of deep attraction—he discovered he was a daddy. Vanessa had been pregnant when they divorced, bore him a son, and kept it a secret. It was a betrayal he wasn't sure he could ever forgive.
But there was no way he would walk away from his child…his heir. The businessman would do his best to be civil to the lovely bakery owner, who was one tough cookie in her own right. But would it only be business between them…or would Marcus indulge his own secret agenda to make this woman his again—once and for all?
Welcome to The Dungeon, Vanessa. We're delighted you could visit us today to talk about HER LITTLE SECRET, HIS HIDDEN HEIR and your relationship with Marcus.
So how did you and Marc first meet?

Vanessa: I was waiting tables at this awful all-night diner when he walked in wearing a suit that probably cost more than I made on tips in an entire year.  He looked completely out of place, but you wouldn't have known it from the way he acted—you'd have thought he owned the joint.  He ordered a cup of coffee and a slice of what was definitely not the World's Best Apple Pie, and over about a zillion refills, we got to talking.  Then he came in again later in the week…and the week after that…and the week after that.  I can't say it was love at first sight, but there was certainly some instant lust involved.
That sounds really romantic.  But what happened?  Why did the two of you end up getting divorced?

Vanessa: Because Marc's mother is a dragon lady.  No, scratch that.  Marc's mother makes fire-breathing dragons look like fluffy little bunnies.  After we were married, we moved into the Keller Mansion, and I think he expected us to live happily ever after on the family estate the same way his parents had and his brother and his wife were…  But Adam had married well, you see, and I was just a lowly waitress.  Not a day went by that Marcus's mother didn't remind me of that fact, and let me know she highly disapproved of me pulling her son down with my red, blue-collar bloodlines.
Now for the question I think is probably foremost in everyone's mind:  Even though you were legally divorced by then, why didn't you tell Marc you were pregnant?
Vanessa: [through pursed lips]  Well, I would have if he'd deigned to accept one of my phone calls.  But I guess the minute the divorced papers were signed, he delegated me to the same category his mother always had—not worthy of his time or attention.
It must have been a real shock when he turned up in Summerville, then, huh?

Vanessa: You have no idea.  At first I thought I was seeing things.  Then I thought I was going crazy.  Then I started to wish I was seeing things and going crazy.
Did you tell him right away about Danny, or were you still trying to keep the baby your "LITTLE SECRET"?
Vanessa: [with a snort] Oh, my life would be so much simpler right now if I were just a little better at hide-and-seek.
So how are things going now?
Vanessa: [covering her eyes and shaking her head]  My life is such a mess right now.  I worry every minute about Marc grabbing Danny and taking him back to Pittsburgh or filing for full custody.  I've been baking like crazy, and if I'm not careful, I swear I'm going to eat up all of The Sweet Spot's profits.
Speaking of The Sweet Spot, I hear the bakery you and your aunt opened in Summerville after the divorce is doing really well.  Rumor has it you make some of the best baked goods east of the Susquehanna and that you were were generous enough to share one of your most popular cookie recipes with Harlequin Desire readers by letting Heidi include it in the front of HER LITTLE SECRET, HIS HIDDEN HEIR.
Vanessa:  The bakery is doing very well, thank you.  That's one of the reasons Marc ended up in Summerville…because I was looking for an investor with deep pockets to help me expand the business.  You can see how well that turned out.  [heavy sigh]
As for the recipe, we were happy to let Heidi use one in the front of the book.  It's a good one, too—Chocolate Peanut Butter Pinwheels.  They're absolutely delicious and melt in your mouth with every bite.  In fact, I think we have some in the display case right now.  They taste even better with a glass of cold milk, and I have some of that in the fridge. Dammit, now I'm hungry.  And you know I'm going to go down and grab a couple as soon as we're finished here.
Actually, I think we are finished here.  Thank you so much for taking the time to chat with us about Marc and Danny and the part you play in Heidi's new book.
If anyone has a question for Vanessa before she runs off for those cookies, feel free to ask them now.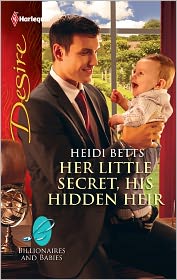 And don't forget to pick up your very own copy of HER LITTLE SECRET, HIS HIDDEN HEIR this week so you can find out even more about these great characters…not to mention get your hands on that fabulous cookie recipe!  You know you're going to want to make a batch of those just as soon as you finish reading Marc & Vanessa's story. :gingerbread
Comments
14 Comments • Comments Feed