Last week, I shared the delightful news that CataRomance awarded ON THE VERGE OF I DO their Reviewers' Choice Award for "Best Harlequin Desire" of 2012—an honor I am still so over-the-moon thrilled about it.
And so many of you—here, on Facebook, Twitter, etc.—chimed in to say you'd read & loved Kara & Eli's story, too.  Some of you even agreed it was one of your favorite reads of last year.  (Thank you for that, by the way; thinking about your lovely comments continues to put a smile on my face. :kissmeirish )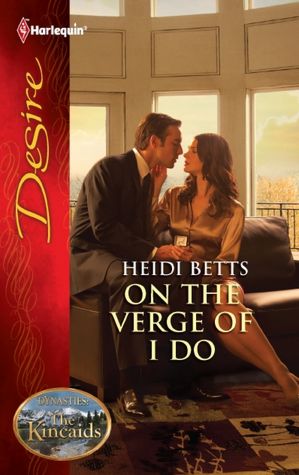 ON THE VERGE OF I DO is also the book that hit the USA Today list for me.
So all of this got me to thinking:  What was it about this story that resonated with so many of you?
Why did you—& the reviewers at CataRomance —like it so much?
Now, I'm not fishing for compliments, I swear.  (If I were, I would be ever so much more direct about it. :flutter )  I really am curious.  I'm always curious to know why readers enjoy certain stories, or what makes a book more memorable for them.
So what was it about this story that stood out for you?

Was it the Southern (Charleston, SC) setting?
The friends-to-lovers theme?
Or maybe the engaged-to-one-sister-but-in-love-with-another thing?
I'd like to ask if it had anything to do with my writing, but that wouldn't explain why this story stood out from some of my other Desires, since my writing style tends to be similar for all of them.  Although, if there's something you noticed that I didn't, I'd love to hear about it. :love
Or maybe it was something simple like the cover or the title or that you love heroes named Eli. :like
Whatever it might be—if you can remember back to when you actually read ON THE VERGE OF I DO—please let me know.  I really would like to know.
And then I'll see if I can do it again.  And again.  And again.  And again. :happystpatty
Comments
9 Comments • Comments Feed