So exciting to have another wonderful author in The Dungeon!  This time I want to introduce you to the cute-as-a-button Liz Talley. :bunnybounce:
A finalist in both RWA's prestigious Golden Heart and RITA contests, Liz found a home writing sassy contemporary romance. Her first book (Vegas Two Step) starred a spinster librarian and debuted in June 2010. Since that time, she has published nineteen books with Harlequin, Berkley, and Montlake. Her stories are set in the South, where the tea is sweet, the summers are hot, and the men are hotter. Liz lives in Louisiana with her childhood sweetheart, two handsome children, two dogs, and a mean kitty.
Let's put her on The Rack & see how she handles Mistress Heidi's list of questions, shall we? :fairie:
What is your favorite color?  Yellow
Favorite song?  Currently, "Way Over Yonder" by Carole King
Favorite movie?  Tough one…uh, Sense and Sensibility
And of course, favorite book?  I can't even….LOL. Too many to name. I do have a special fondness for Lonesome Dove though.
What was the first book in your chosen genre that you remember reading, or that made you want to write the same?  Wow, these are tough. I never expected to write contemporary romance. I wanted to write Regency, so I'm going to say To Sir Phillip, With Love by Julia Quinn. I loved that book so much I decided to try my hand at writing a historical romance. And then I fell in love with writing.  :cuckoocat:
What do you think of Heidi?  She's great, right?  I'm pretty sure I can't say anything bad here. LOL  She's fantastic!  (Note from Heidi:  Yeah, it's probably a good idea to say only good things. You don't want to incur Mistress Heidi's wrath.
)
How did you get started writing?  After I read the aforementioned book, I had a lightbulb moment. Maybe I could write a book. It started out as fun for a bored SAHM, but one day, I finished the book. And then I found other writers. And RWA. And a whole new world that I fit into. :ducks:
Tell us a little bit about The Call—i.e. your first sale.  It happened in September. It was a Friday afternoon, and when I checked voice messages, I had a call from Wanda Ottewell, the senior editor of Superromance. Well, I nearly peed my pants. But with shaking hands I called the number she'd left and asked to be connected to her office. I got voicemail. I left a message. And promptly got so keyed up that I could hardly function. Seriously. I was a mess. A million thoughts went through my head, and I was certain she was calling to tell me the revisions I'd done on the revise-and-resubmit weren't going to work. I went to the bathroom, like, a million times, and finally my husband found a Xanax in the medicine cabinet and made me take it. After an hour, she called back and told me they wanted to buy my book. I told her thank you and took down all the information about deadlines, etc. She finally said, "You might be the calmest author I've ever made this call to." I said, "Well, I took a Xanax." She pretty much collapsed into laughter. In hindsight, it was pretty funny. :giraffe:
Fill in the blank—If you like [blank], you'll love Liz Talley!  A fabulous book?  Figured I'd go for the gold. :alice: (Another note from Heidi:  Brava! Brava!  Go big or go home, right? :devil: )
If your plane crashed in the Andes, would you convince the other survivors to eat Heidi first or last?  Last. I'm a proponent that as long as someone is around who can spin a good yarn, hope remains. Heidi goes last. (Further intrusion from Heidi:  Whew. :dizzyegg: )
You've recently begun writing for Harlequin Blaze, as well as Harlequin SuperRomance. Can you share the thinking behind that move and the differences—as well as what you enjoy most—in writing for both lines?  Well, I've done fifteen Superromances so I'm pretty versed in writing bigger books with secondary story lines. Most of my Supers feature a small town with lots of family complexity, warmth, and depth of emotion. In Blaze, I don't have quite as much room for building complexity, but instead I focus on the intimate relationship. Another huge change, of course, is the level of heat and the way the story is driven first by sexual desire. One thing I like about Blaze is the tight storyline and the quick jump to intimacy.  (Even more intrusion by Heidi:  As do we all…as do we all. :cuffs: )
Tell us about your latest release and why we'll love every word. My newest release, COWBOY CRUSH, is at heart a story about finding a place to belong and coming to terms with things a person can't change. My hero, Cal, is a two-time PBR champ and he's rehabbing a shoulder injury. It's hot, he's bored, and a beautiful woman interrupts his pancake breakfast. Maggie's a Philly fish out of water in the one-horse town of Coyote Creek, Texas, and she needs help in getting a ranch she's inherited into shape for a quick sale. Cal offers to supervise the work, moves his trailer out to the ranch, and pretty soon things heat up. :devil:  There's plenty of sexual chemistry, but even with all the frolicking, the heart of the story is about falling in love. :bouquet:
If you could write anything—whether in the same genre/sub-genre as you're writing now or another—what would it be?  I'd love to write a good mystery. Love reading them, but they're really hard to write.
What are you currently working on?  Currently, I'm working on my third book in the "Morning Glory Girls" series. The first book, Charmingly Yours, launches on May 24th with Montlake, and I'm super excited about this series. It's pretty much Sisterhood of the Traveling Pants meets Sex and the City.
LIGHTNING-FAST LASHES:
Leather or lace?  Lace
Devil or angel?  Angel
Angel food or devil's food?  Angel Food (honestly that drove the answer to the preceding question :chocoyum: )
Hemlock or arsenic?  Arsenic…and Old Lace  (he-he—love that answer; it's always where my mind goes, too :bunnyyum: )
Blood, sweat, or tears?  Sweat
Boxers, briefs…or commando?  Boxers
Cowgirl or missionary? (Hey, get your mind out of the gutter. I was simply asking what you wanted to be when you were growing up. :basket: )  Wait….can I be a puppy? LOL  (Okay, I checked with Mistress Heidi & she says you can be a puppy if you wanna. :sleepy: )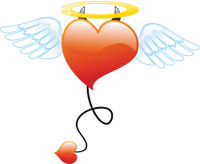 That was awesome, Liz—thank you so much!  I know readers are going to love chatting with you after that fabulous interview! :happyeaster:
But that's not all Liz has to offer, My Darlings!  She has generously offered to give away a copy of her newest Harlequin Blaze release, Cowboy Crush (print or ebook—winner's choice) + a $10 Starbucks gift card! :bunnyhop:
All you have to do to be entered is answer this simply question for Liz:  WHAT IS YOUR FAVORITE THING TO DO IN THE SPRING? :spring:
Winner will be announced on Sunday, April 17th as part of our regular "Happy Sunday" post, so be sure to check back to find out if you've won!
And remember, you can chat with Liz about anything. Ask her about her books, her writing, her favorite tv shows.  Just be sure to "Think Spring" if you want to be entered in the drawing.
You can also visit Liz any old time and learn more about her books at LizTalleyBooks.com!
Happy chatting! :candy:
Comments
25 Comments • Comments Feed