If you thought the first Monday after Daylight Savings Time was going to be a downer, you were so wrong!  Today we are amazingly lucky to have the incomparable Linda Winstead Jones as our guest!  Linda is absolutely wonderful, & that's before you even get to her books, which are…  Hmm…what's a word that means better than wonderful?  Well, you'll just have to take my word for it, I guess. :clover:
Linda's first book, the historical romance Guardian Angel, was released in 1994, and in the years since, she's written in several romance sub-genres under several names—in order of appearance:  Linda Winstead, Linda Jones, Linda Winstead Jones, Linda Devlin, and Linda Fallon. She is a six-time RITA finalist, and a winner for Shades of Midnight, written as Linda Fallon.  Most recently she's been writing as Linda Jones in a couple of joint projects with Linda Howard, and re-releasing some of her backlist in e-book format. Linda lives in Alabama, and can be found at LindaWinsteadJones.com.
So let's not waste another minute—it's time to put her on The Rack & get to know her a little better… :music:
What is your favorite color? Usually purple. Sometimes blue. Teal! Can't forget teal.
Favorite song? I have to pick ONE? Like the colors, it all depends on my mood. In my CD collection (yes, I still have CDs) are Abba, Queen, Imagine Dragons, Adele, Norah Jones, Aaron Neville, Pachelbel, Harry Connick Jr., . . . and much, much more.
Favorite movie? Moonstruck. And Shakespeare in Love.
And of course, favorite book? Don't shoot me, romance readers and writers, but…The Stand by Stephen King.
What was the first book in your chosen genre that you remember reading, or that made you want to write the same? I started out writing mysteries. Or trying to. That was what I liked to read, so why not? But it soon became clear that in these never-to-be-seen first efforts, the relationships were more important than whodunit, so I went with the flow. The first romance I read that grabbed me and made me want to focus on that genre was Sweet Savage Love.
What do you think of Heidi? She's great, right? She's fantastic! (Note from Heidi: Thank you, thank you very much. :tipohat: )
How did you get started writing? I don't remember it, but apparently when I was five I wrote a newspaper and went to all the other apartments in our student housing building (my dad was in college at the time) and sold them for a penny each. After that there was a long break before I tried again. On a typewriter balanced on my ironing board. If you're desperate enough, the how doesn't matter much!
Tell us a little bit about The Call—i.e. your first sale. I had just returned from my very first conference—a small, chapter conference—where I had not gotten much sleep. It's a Monday morning. The kids are off to school and I lie down on the couch and go back to sleep. The phone rings, and it's Alicia Condon from Leisure. I grab a nearby McDonald's napkin and write down the details of her offer. :potofgold:
Fill in the blank—If you like [blank], you'll love Linda Winstead Jones! I think I'd have to say "slightly off the wall romance."  (Further note from Heidi:  Wow, I wouldn't say your stories are off-the-wall, just awesome! Of course, I'm a little off-the-wall myself, so maybe I just can't identify it in others. :drunkhulk: )
Tell us about your latest release and why we'll love every word. WARRIOR RISING is the sequel to a book Linda Howard and I wrote several years ago. Long story short, Blood Born ended with a cliffhanger. We had every intention of writing Warrior Rising, but the publisher decided they didn't want it. We're coming up on six years since Blood Born was released, and finally the story is told! Why will you love it? Sorin, sexy vampire. Indikaiya, Immortal Warrior. Nevada, reluctant witch. It's urban fantasy and paranormal romance, good vs. evil, redemption…and maybe just a little off-the-wall.
(Even more intrusion from Heidi:  Yippee!  I must confess, I haven't read Blood Born yet—maybe because I'd heard about the cliffhanger ending & was slightly hesitant—but I definitely have a copy & recently moved it to the top of my TBR pile! Now I don't have to hesitate to read it at all, because I know I'll immediately be able to read the next installment. Happy dance! :dancin: )
If you could write anything—whether in the same genre/sub-genre as you're writing now or another—what would it be?   I've written more than seventy books. If something comes around that I want to write, I usually just do it.
What are you currently working on? Linda Howard and I are working on another joint project, Frost Line. It will be released in August. I promise, no cliffhanger.
LIGHTNING-FAST LASHES:
Leather or lace?  Lace
Devil or angel?  Angel
Angel food or devil's food?  Devil's Food
Hemlock or arsenic?  Hemlock
Blood, sweat, or tears?  Sweat
Boxers, briefs…or commando?  Boxers
Cowgirl or missionary? (Hey, get your mind out of the gutter. I was simply asking what you wanted to be when you were growing up.)  Cowgirl!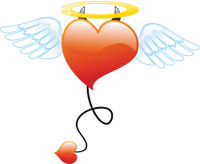 Thank you so much, Linda, that was a blast!
But a quick Q&A isn't all Linda agreed to—she's also giving away a $10 Amazon gift certificate after her visit.  (Which you can use to buy Warrior Rising, since it's available TODAY! :irish: )
All you need to do to enter the drawing is stick around to chat with Linda.  Ask her a question, gush about one (or more) of her many fabulous books—you know, basically do the unfettered fan-girl thing. :ohwayoh:
Winner will be announced on Sunday, March 20, 2016, so stay tuned.  And in the meantime, enjoy this chance to pick Linda's very fertile brain. :dancin:
And remember, you can visit Linda or find out more about her books any time at her website:  LindaWinsteadJones.com
Comments
31 Comments • Comments Feed