Please join me in welcoming fellow Harlequin (formerly Silhouette) Desire author JULES BENNETT to The Dungeon!
After owning her own hair salon for many years, Jules has hung up her shears to concentrate full-time on the characters in her head and raising her two small children. She's married to her high school sweetheart and they are living happily-ever-after in the midwest. She loves to hear from readers and you can contact her through her website, www.julesbennett.com, where you can also check out her backlist, upcoming releases and much more!
So let's put Jules on The Rack & get started… :mistress
What is your favorite color? Green
Favorite song? "You Lift Me Up" by Josh Grobin
Favorite movie? The Godfather (can I choose a trilogy? *g*)
And of course, favorite book? Irish Thoroughbred by Nora Roberts (made me want to write)
What was the first book in your chosen genre that you remember reading, or that made you want to write the same? Irish Thoroughbred by Nora Roberts (Can I use that answer for everything? *g*)
What do you think of Heidi? She's great, right? You're kidding?! You use your blog to get compliments? Why didn't I think of that? You're a genius!  (Note from Heidi:  Damn tootin'!  :tongue   But the fact that you never actually answered the question has not escaped our notice… :humpf )
How did you get started writing? I was the nerd who liked essays in high school and college. I've always been a writer.
Tell us a little bit about your first (or most memorable, if you prefer) sale. I remember my first sale because I was changing my baby's diaper when my cell rang. I had a special ringtone for my agent "I'm Gonna Make Him an Offer He Can't Refuse" from The Godfather. I literally left my baby laying in her crib totally naked, dashed past my toddler to dig the phone from my diaper bag. My agent told me the offer and I asked how soon the contract would be ready. She said, "Are you accepting?" Uh, yeah!
Fill in the blank—If you like [blank], you'll love JULES BENNETT! Steven King, Nora Roberts, John Grisham…seriously, all the big names are ranked with mine. *vbg*
Which of your books would you like to pimp today? Tell us about it and why we'll love every word.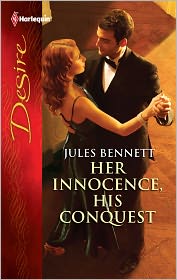 HER INNOCENCE, HIS CONQUEST
This is the second in my Miami series from Harlequin Desire. This is about playboy billionaire and architect Zach Marcum. He's so hot, so bad boy and so out of his league when he sets his sights on (gasp!) a virgin who works with playboys everyday of her life and isn't the least bit impressed with Zach and his charms.
If your plane crashed in the Andes, would you convince the other survivors to eat Heidi first or last? Is this another ploy for compliments? Okay, I'll play along…  I would eat you first myself and not tell the others anything because I'm selfish.  (Further intrusive note from Heidi:  Oh, no.  This is not good.  I am never traveling with you—especially on a plane or near the Andes. :scared )
If you could write anything—whether in the same genre/sub-genre as you're writing now or another—what would it be? Honestly, I'd write non-fiction books on the realities of motherhood and the unexpected surprises. But there's no way I'd leave romance. I love the happy endings.
What are you currently working on? I'm working on a fun series for Desire, and that's all I'm going to give away. *g*
LIGHTNING-FAST LASHES:
Leather or lace? leather
Devil or angel? Angel (it's my sister's name)
Angel food or devil's food? Devil's food
Hemlock or arsenic? arsenic
Blood, sweat, or tears? Sweat (if we're talking about me)
Cowgirl or missionary? (Hey, get your mind out of the gutter. I was simply asking what you wanted to be when you were growing up. :-p) Cowgirl!
Thanks for such a fun interview, Jules!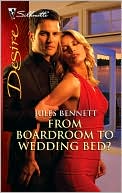 Jules has also generously offered to give away not one, but two autographed books to commemorate her time in The Dungeon!
Book #1 for Winner #1 — Jules's October Silhouette Desire, From Boardroom to Wedding Bed?
Book #2 for Winner #2 — Her brand new April release, HER INNOCENCE, HIS CONQUEST
To be entered in the drawing, simply ask a question or leave a comment for Jules during her visit today. (U.S. residents only, please.) A winner will be chosen & announced on April 10th during our regular "Happy Sunday" post. So be sure to stop back to see if you've won! (Otherwise, I'm keeping the prize for myself, I swear. :howyoudoin )
Good luck & happy chatting!
Comments
31 Comments • Comments Feed