It's been a while since we've had a guest in The Dungeon, but Mistress Heidi & I are delighted to have the incomparable Jeannie Ruesch join us today! smilie#13
Jeannie is not only a talented historical romance author, but she is also a web designer…nay, THE web designer who created out little home away from home, HeidiBetts.com & WIPs and Chains.  A big round of applause, please!  After all, this is the most awesome website/blog in the web-o-sphere. smilie#8
But today, we'll be focusing on Jeannie the writer, not Jeannie the design wizard. smilie#5
Jeannie Ruesch wrote her first story at the age of the six, prompting her to give up an illustrious, hours-long ambition of becoming a Dallas Cowboy Cheerleader and declare that writing was her destiny. The journey toward destiny held a few detours along the way, including a career in marketing and design. Her first novel was published in 2009, but the darker side of life has always captivated her. So after a dinner conversation with friends about the best way to hide a dead body, she knew she had to find a way to incorporate suspense into her writing. (The legal outlet for her fascination.) Today, she continues writing what she loves to read—stories of history, romance, and suspense. She lives in Northern California with her amazing husband (who cooks, cleans and edits!), their son, and a lab named Cooper.  You can visit Jeannie at www.JeannieRuesch.com or find her regularly on Twitter or Facebook.
So please join me in giving Jeannie a big WIPS and Chains welcome while we strap her to The Rack & ask her some of Mistress Heidi's most probing questions… smilie#3
What is your favorite color?  Teal blue.  It's such a rich, gorgeous tone. Of course, I'm also a sucker for deep, dark red—there's a wall in my living room that stands as testament.
Favorite song?  "The Way You Look Tonight," sung by Frank Sinatra. In fact, I once proclaimed that I'd marry the man who serenaded me with that song. (And I did! smilie#29 )
Favorite movie?  My favorite movie…while I can't explain what I love about it…is Twister with Helen Hunt. I've seen it probably 50 times or more and I love every line. An equal contender would be Meet Me in St. Louis with Judy Garland. My grandmother introduced me to that movie when I was a little girl, and it's been a favorite ever since. I watch it every Christmas.
And of course, favorite book?  Whitney, My Love by Judith McNaught. I love Ms. McNaught's ability to create such flawed, wonderful characters and weave a beautiful story around them.
What was the first book in your chosen genre that you remember reading, or that made you want to write the same?  My genre is historical romantic suspense, so it's really a mush of books that inspire me. My first historical romances were by Kathleen Woodiwiss and Bertrice Small. Kathleen Woodiwiss's Come Love a Stranger and A Rose in Winter had such a great mix of history, mystery, and romance, I was instantly enamored. I wanted to write like that; I wanted to evoke that mix of suspense, uncertainty, laughter, tears… I'm also a tremendous fan of Lisa Gardner, who writes the best suspense/thrillers I've ever read. I admire her ability to not hold back, to go where the story takes her, no matter how gritty it is.
What do you think of Heidi?  She's great, right?  Heidi who?  Just teasing!  Heidi was one of my favorite clients when I did design work.  In fact, she was one of my very last clients because I didn't want to stop working with her. Designing for her was so much fun!  (Intrusive note from Mistress Heidi:  In fact, Jeannie is so enamored of Heidi that she remains on-call & still does the occasional bit of emergency website work when absolutely necessary.  Yes, we have that mesmerizing effect on people… smilie#10 )
How did you get started writing?  I wrote my first story when I was 6. I remember the collegiate-lined paper on my desk, the number two pencil in my hand and setting that pencil down after writing "The End." The feeling that I had in that moment was one of the purest moments of joy I've ever felt. I ran down the hallway to share my story with my parents, who were wonderfully excited and supportive. From that moment on, it's been my dream and I never gave up.
Tell us a little bit about your first (or most memorable, if you prefer) sale.  My first sale was to the small publisher, Wild Rose Press. I actually submitted to them because I had heard that they gave feedback when they rejected a manuscript. I was looking for feedback to improve my writing. Lo and behold, I got an offer instead. I was in my living room when I got the email (which showed up in my SPAM folder, of all places.) I did quite the Snoopy Happy dance. It was a lifelong dream realized.
Fill in the blank—If you like [blank], you'll love Jeannie Ruesch!  If you like popcorn, we'll get along famously.
  But I'm guessing that's not what Heidi means. smilie#31  Hmm…let's go with, "If you like stories of unexpected mystery and romance, then you'll love Jeannie Ruesch." Now that I sound sufficiently full of myself…  I write in a genre that has one very big expectation—a happy ending for the hero/heroine—so I strive to write stories that will keep the reader guessing. I had a reviewer write that she began to question whether the hero/heroine could end up together—it was one of the best compliments I could have received.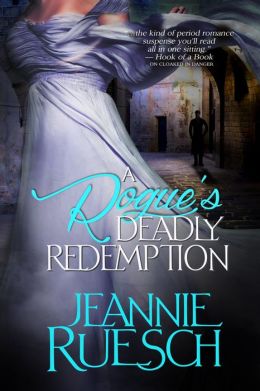 Tell us about A ROGUE'S DEADLY REDEMPTION and why we'll love every word!  When I wrote A Rogue's Deadly Redemption, one of the questions I wanted to answer was what happens if we could shed our emotional baggage? Would our experiences still define us? A Rogue's Deadly Redemption is, at its core, a story of love redeemed. My hero and heroine are married, and the story starts with my heroine, Lily, making a bold choice to move away from her husband during an era when marriage wasn't usually about love, and women were expected to abide by their vows.
Before she can leave, however, her bad-boy husband, Robert, is in an accident and loses all memory. This gave me a chance to explore who Robert would be without the deep, dark pains in his life that had defined his choices.
Here's the "official" cover copy:
Scandal forced Lady Lily Melrose into an untenable decision: marry the man she wanted but who wanted someone else or leave her home for America. She gambled and stayed. Now, almost four years later, Lily is ready to gamble again—on a future that means leaving her neglectful, absent husband behind. But when a deadly adversary threatens them both, Lily realizes how little she understood about her husband—and her marriage. She's faced with another impossible choice: leave the man she loved to face certain death or stay and fight to help him deliver on a promise he no longer remembers.
Robert Melrose was raised as the forgotten third-born son with no future—without even the label of black sheep to keep him respectable. Not content with obscurity, he cultivated his own path to power, aligning himself with London's underworld, where betrayal is deadly. But when an accident wipes away his past, Robert can't remember who he is or what he's done. What he does know is that his wife, Lily, evokes a strong need inside—a need to prove he's better than his past. But when his past becomes a present danger, Robert must choose: gain the trust and love of the woman intent on leaving or let her walk away from him and the danger that might cost both their lives.
If your plane crashed in the Andes, would you convince the other survivors to eat Heidi first or last?  Last! Is there any other answer that makes sense? Heidi would be great entertainment—and let's face it, there wouldn't be much entertainment to be found otherwise. smilie#9
If you could write anything—whether in the same genre/sub-genre as you're writing now or another—what would it be?  I have a story that I've written the first chapter for—it's very dark, very gritty, about a young girl who finds the strength to get through something truly horrific. I can't wait to write that book. The curious thing is that the story hasn't come to me yet. That first chapter I wrote in an hour, but the truth of what lives behind that chapter is hiding, waiting to show its face. I have no idea what era it's set in, where it happens, who this young girl grows up to be…I can't wait to learn where it's going to go and to write it.
What are you currently working on?  The last book in my Willoughby family series—with a heroine who needs redeeming and a hero who thinks he's beyond redeeming. Throw in a bit of smuggling, a murder mystery and mayhem, and it's shaping up to be a very, very interesting mix with these two.  After this series, I'll begin one set in a small town in America. Each book will touch on the lives of the residents of this town, in different eras, with a mystery about the town that binds them all. I'm excited to get started on that next!
LIGHTNING-FAST LASHES:
Leather or lace?  Leather!
Devil or angel?  My husband says I have little bluebirds flying around my head, so I guess angel? (Then again, I kill people in my books, sooo…
)
Angel food or devil's food?  Angel food. (I love strawberry shortcake!)
Hemlock or arsenic?  Hemlock. Seems a far more fascinating way to write a death, though not a very pleasant death. (And I'm going with the idea that I'd use it in a story…not that Heidi is asking my preferred way to die.  Then again, we are in a Dungeon…) And hey, hemlock was good enough for Socrates.
Blood, sweat, or tears?  Tears, definitely. I love a good cry. Just show me a sappy Hallmark commercial, and I'm right there.
Boxers, briefs…or commando?  I'm a sucker for boxers.
Cowgirl or missionary? (Hey, get your mind out of the gutter. I was simply asking what you wanted to be when you were growing up. smilie#22 )  Cowgirl, but of course. Nothing better than wearing cowboy boots… smilie#11
That was great, Jeannie—thank you so much! smilie#24
And now for…
THE GIVEAWAY smilie#15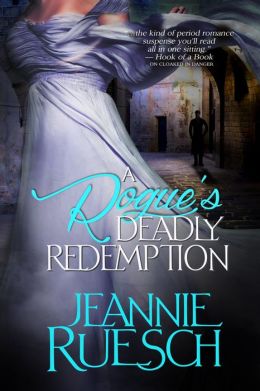 Jeannie has also very generously offered to give away an autographed copy of A ROGUE'S DEADLY REDEMPTION plus a $10 Amazon gift card to one lucky visitor to today's blog!  So the more you chat, the better your chances to win!
Winner will be announced on Sunday, November 23rd, so be sure to pop back in.  (Attempts will be made to contact the winner, but it's always smart to see for yourself that you've won & take the initiative to contact me on your own.  Then I'll pass your mailing information to Jeannie & she'll send the prize directly.)
Jeannie has also asked me to mention that she's running another contest at her website right now:  http://jeannieruesch.com/coffee-tea-or-reads/  She is giving away a Keurig machine, books, and some fantastic coffee by Rogers Family Company.  Who can resist that? smilie#21
Good luck & enjoy chatting with Jeannie! smilie#32
Comments
52 Comments • Comments Feed