Another party in The Dungeon?  Why in heaven's name are we doing that?
You know why—because today is the day! HER LITTLE SECRET, HIS HIDDEN HEIR is officially ON SALE!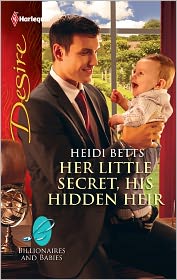 It seems like forever that we—or at least I—have been waiting for this book to hit the shelves, but it finally has.  HER LITTLE SECRET, HIS HIDDEN HEIR is now available for purchase & being shipped from Amazon, Barnes&Noble.com, eHarlequin, & all of the other online retailers.  It's also available for download in e-book format for Kindle, NOOK, & all of the other e-reader devices.  And it should be on just about all of the bookstore & retail store shelves, so if you haven't found it yet, keep your eyes peeled when you go to the mall, Wal-Mart, K-Mart, Target, Meijers, etc.  That puppy is out there, I just know it!
What else can I say about this long-awaited "Bakery Book" that will make you want to get your hands on it as soon as humanly possible?
Well, you can check out its book page right here at HeidiBetts.com for a closer look at the cover, back cover blurb, & even an excerpt!  (Yes, I've belatedly realized that I never posted an excerpt here at WIPs, so now is your chance to read one before you buy. :babybook )
You know all the recipes I've been posting recently to whet your appetite for Marc & Vanessa's story?  Well, I saved the very best for the book itself.  Inside HER LITTLE SECRET, HIS HIDDEN HEIR, you will find the recipe for Chocolate Peanut Butter Pinwheels, one of the tastiest cookies in the entire world.  I'm not
being biased, either…they really, really are the yummiest thing ever!  As soon as everyone has a chance to read the book & bake a batch for themselves, I want to hear about it!  I want to know if they made you moan & your eyes roll back in your head.  Because, yes, they are that good. :inbed
I've got a handful of what I hope you will think are really fun giveaways in mind for the next few weeks, after everyone's had a chance to read Marc & Vanessa's story. I want to do a few more trivia-laced posts & give you all a chance to read the book before I post them, though.  So rather than picking up the book & then adding it to your TBR pile where it may or may not get read during this decade :wink do try to read it sooner rather than later.  Then we'll discuss.  And hold drawings.  And have just oodles of Dungeon fun. :jump
Everyone who runs out & buys a copy of HER LITTLE SECRET, HIS HIDDEN HEIR this week—or orders it online, or vows to buy one at the very first opportunity—gets to partake of today's party favors…
A sexy, half-naked Dungeon Hottie to keep you company…
…& fulfill your every desire.  Especially if that desire is for sweet, yummy, zero-calorie cookies & decadent, bakery-inspired, also zero-calorie drinks…
So what are you waiting for?  Add HER LITTLE SECRET, HIS HIDDEN HEIR to your shopping list already & let's party!

Comments
17 Comments • Comments Feed