There's a very important message at the bottom of today's post.  So once you've drooled all over this month's hotties & cast your vote, please scroll down to check it out.  Thank you! :happysun
Time to vote in a new Hunk of the Month for July.  :hotstuff And since he'll be gracing our sidebar through the hottest month of the year, I think it's only fair that we let him enjoy his vacation & wear as little as possible…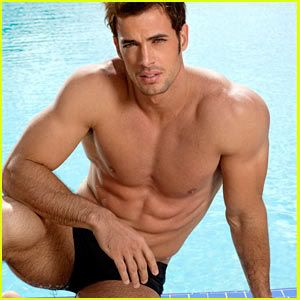 (Come on in—the water isn't warm, but I certainly am. ;))
(Is that sand…or your hand?)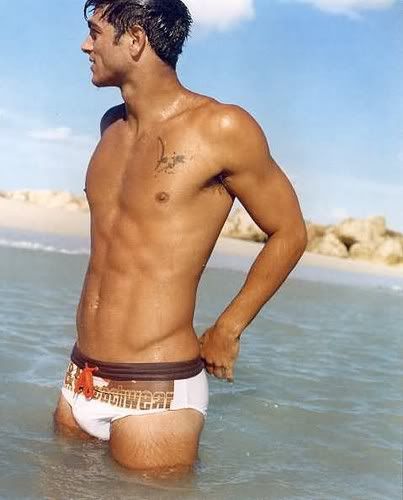 (Stop pulling at my trunks…I'm shy.)
(Do these Speedos make my butt look tight?)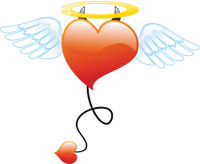 There's a very important fundraiser going on right now that I'm hoping you'll participate in…
One of my favorite animal local rescue organizations is The Hundred Cat Foundation, & for a very small window of time—between the hours of 6am June 27th & 6pm June 28th—they have a chance to double donations during the Centre Foundation's "Centre Gives" on-line donation drive.  During the drive, the foundation will be matching donations made to participating charities.
This is so important…& such a great opportunity for The Hundred Cat Foundation.  For every $25 you donate, they'll get $50 to help the kittehs.  The kittehs, my Darlings, the kittehs!
  (And they do an absolutely amazing job of rescuing, offering medical support, & running both low price spay/neuter clinics & Trap-Neuter-Release programs.)
Taken directly from their newsletter so I don't mess it up:
Centre Gives begins tomorrow at 6 AM! This on-line matching donation challenge is sponsored by the Centre Foundation (formerly the Centre County Community Foundation) and will allow local charities like The Hundred Cat Foundation to raise much needed funds and receive a match from the Foundation. $100,000 in matching funds will be made available for this event. Donations must be at least $25 to qualify for the matching grant.
Donating is easy and secure. You can donate anytime between 6 AM on June 27th and 6 PM on June 28th from either of these websites:
www.HundredCats.org or www.CentreGives.org — Be sure to select THE HUNDRED CAT FOUNDATION as your charity of choice!!!
As a friend of The Hundred Cat Foundation, we are asking for your support. Your donation will go toward programs such as:
High Quality, High Volume Spay/Neuter Clinics: HCF holds a clinic each month and provides low cost spay/neuter services for feral and stray cats. Our clinics have altered nearly 1500 cats since 2009! We also vaccinate feral cats against rabies, a serious issue in Centre County.
Feed the Ferals: We distribute over 500 lbs of food each month to colony caregivers in need. This program allows caregivers to provide their cats with nutritious food and helps maintain the overall health of the colony.
Adoption Program: Through our work with colonies, we often find kittens born of feral mothers or formerly socialized strays that have ended up in a colony but that are not truly feral. Our adoption program places these cats in foster homes for socialization and evaluation, provides medical care, and finds suitable forever homes. This allows these cats to live their lives in a loving home environment rather than facing an uncertain future as a stray.
Education and Outreach: Our volunteers work with concerned citizens who wish to help stray/feral cats in their neighborhoods. We provide education on TNR and spay/neuter services, loan humane traps for DIY TNR projects, and educate people on the misconceptions and urban legends surrounding feral colonies. We advocate for all cats, not just those that can be adopted. Since our founding we have helped over 3,000 feral and stray cats in need.
Your support is essential for these programs to continue. We receive no funds from local or state governments and depend almost entirely on private donations to fund our programs. Please help us help the cats of Centre County.
Thank you for your support!
So please, please, PLEASE consider making a donation that will automatically be doubled & go 100% to help the kittehs!
(Mistress Heidi & I thank you. :angel )
Comments
14 Comments • Comments Feed