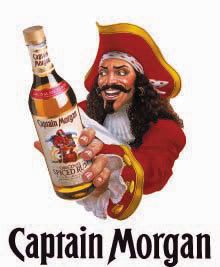 In addition to Martin Luther King Day, today is Hot Buttered Rum Day.
Hmm, which do you think Mistress Heidi wants to celebrate most?
On the one hand, MLK Day is a national holiday, which means a day off work.  (For most people; stay-at-home writers have no concept of holidays, really, nationally observed or otherwise.)
On the other, sitting down with a nice Hot Buttered Rum (or six) sounds infinitely more enjoyable.
Yes, let's go with celebrating Hot Buttered Rum Day!
Here is a recipe anyone can pull off (even me!) as long as you've got yourself a little Captain Morgan handy.
Hot Buttered Rum
Ingredients:
sugar
spices (such as cinnamon, nutmeg, allspice…)
orange zest (optional)
2 oz. dark or spiced rum
water or apple cider
salted butter
Directions:
Sprinkle a little sugar, the spices of your choice, & orange zest (if preferred) into mug.
Add rum.
Fill mug with hot water, or warm apple cider, if you prefer.
Top off warm brew with pat of salted butter. Let butter melt before stirring it all together.
Enjoy!
As a funny aside, I have to tell you that Madame Mommy Dearest is actually the one who brought this great holiday to my attention.  Then she asked me to make her one.  Only she didn't want the butter on top.  To which I replied, "Without the butter, it's really just hot rum, & you don't need me for that." *snork*
Comments
11 Comments • Comments Feed