Happy Sunday, everyone! I hope you've all had a wonderful week, because it's time again to share all the things we're happy & grateful for here in The Dungeon.
I'll start. :Pretty
This week, I am very grateful that the scratch on Simon's eye wasn't as bad as it could have been, & that it's healing up beautifully.  He doesn't exactly love the ointment I have to put in twice a day, but he's handled it like a trouper & has even gone back to fighting with the other kitties, which we all know is how he got hurt in the first place. :angeldevil
I'm happy that my exercise bike is once again fixed.  It took some doing to get the guy out here…  I called & scheduled an appointment for two days after it broke, but no one ever showed.  When I called back, they had me down for a week & a half later.  Huh?!?  How exactly was I supposed to get confused over "Wednesday, November Third" & "Friday, November Twelfth"?  Yeah, didn't happen; totally their goof, because I know what I heard.  But they were able to fit me in a tad earlier than the 12th, which was nice.
And the funny thing is that while my bike was down, I dragged out my old Tae Bo DVD & tried that again.  Haven't done it in years, & I honestly didn't think I'd be able to get through the whole thing without either passing out or taking frequent breaks.  But I did!  I'd forgotten how much I love it, too, so I ended up actually enjoying not having my bike to ride.  And I'm going to try to work Tae Bo back into my workout rotation. :hothot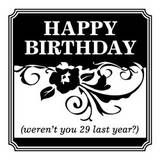 I'm thankful that this was my birthday week, not because I'm a year older, but just because it was fun.  And because—to paraphrase a quote from NewsRadio—it means I didn't die partway through the year. *snicker*  It also gives me the chance to once again remind everyone that I'm only 29 years old.  I am!  Ask anyone who's ever asked me my age & gotten more than the hairy eyeball as a response. :winkwink
Know what else makes me unaccountably happy this week?  Buffy the Vampire Slayer is back on TV thanks to Chiller Channel.  I think everyone with a pulse or a lick of taste whatsoever will agree with me that Buffy rocks!!!  And even though I own the entire collection on DVD—don't we all?—it's so much more fun to catch it on TV.  (At least it is for me.)  I also love that it's on now, while I'm working on one of my very own vampire stories.  It can inspire me daily! :surrprisse
Speaking of vampires, I am back to working on MUST LOVE VAMPIRES (formerly Vamps in Vegas) with a vengeance.  No surprise that the NJRW conference threw me off quite a bit—as did stopping right in the middle of a super-hot love scene, which is never a good idea—but I've finally caught up (knock on wood!), re-focused myself, & been able to jump back in.  And I'm loving this story, let me tell you!
So that's about it for me this week.  Nothing spectacular, but a fun week with lots to be grateful for, all the same.
How about you?  What are you thankful for on this bright & sunny Happy Sunday?
And of course we have a Free Book Friday winner to announce today, as well. :party
Amanda!
Congratulations, Amanda! Please contact me with your mailing information & I'll get your NaNoWriMo kit out to you as soon as I can.
Comments
14 Comments • Comments Feed