Happy Sunday!  How's everybody doing this week? :jump
For me, the truth is that My Deadline Approacheth.  Which means I'm a little stressed & really, really busy. So if I seem a little frazzled or incommunicado this week, it's just because I'm working, working, working. :doh
By the way, if you haven't seen my new profile picture on Facebook, this is my Deadline Face:
Notice the wee bit of panic in my eyes…& yet I smile in an attempt to convince everyone—including myself—that I will be on time.  I think I can, I think I can, I think I can.  Oh, yeah.
Anyway, I AM HAPPY that the book is actually coming along really well, impending deadline notwithstanding.  I'm loving this story & its characters.  I just hope I can keep all the details straight, since it's a continuity story & there are a lot of balls to juggle.
I AM HAPPY that I'm not attending the RWA National conference this year.  I know that sounds terrible, & I'm a little sad, too, believe me. :crying   But if I were going, I'd have spent the last week or two in a tizzy of packing & planning & preparing—which I hate. :bloody   And getting ready to travel to New York…not sure if I'd have taken a plane, a train, or an automobile, but the only one of those that wouldn't have had me wanting to blow my brains out (see above emoticon) is the automobile.  My deadline dementia would be even worse…I'd either leave knowing my book wasn't done & might not be turned in on time, or spend the entire week worrying that I'd be too tired when I got home to finish on time…  I'd also spend the entire week worrying about Phantom Kitty, who's getting older & needs a lot of TLC the pet sitter simply can't provide.  So, yeah…it's kind of a relief that I'm not doing all of that right now, when so many others are.
And, yes, this will be me the entire week while everyone else is dressed to the nines, strutting their stuff on Fifth Avenue…or Broadway…or Times Square.   Notice the "sitting around in my underwear" implication.  I'll be working in my underwear, but there's sure to be underwear involved. :kittylaugh   I may even have a Superman t-shirt I can dig out to fully round out my Homer Simpson imitation.
All righty, it's your turn.  What happy, wonderful, joyous things are going on in your life this week?  Inquiring minds want to know. :wink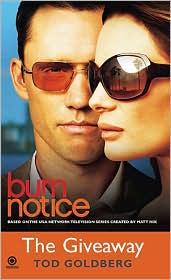 And now for the winner of this week's Free Book Friday title, The Giveaway, a Burn Notice tie-in novel.  (You don't even have to read it, maybe just prop it up somewhere to drool over Michael's sexy close-up on the cover. :sexy )
:getdown Shannon E!!! :getdown
Congratulations, Shannon! :claphat Please contact me with your full name & mailing information, & I'll get your book out to you as soon as I can!
Comments
5 Comments • Comments Feed