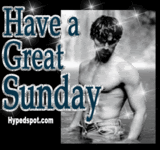 "I feel so fortunate to be one of the lucky ones who is so grateful and appreciative to know such great synonyms for thankful."
~Demetri Martin
Happy Sunday!
Can you believe it's June already?  I certainly can't.  Where the heck is the time going?

On the up side, we've got that hot little number up there to keep us company, so it's not all bad. :wink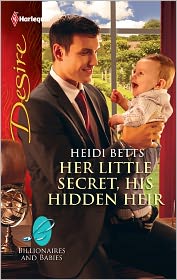 I don't think anyone will be surprised to hear that I AM HAPPY—happy, happy, happy, nearly ecstatic!—to have a new book out this week!
Yes, it's true, & you all know it…I've got a brand new Harlequin Desire hitting the stands pretty much as we speak.  HER LITTLE SECRET, HIS HIDDEN HEIR is already available for Kindle, NOOK, & other e-book devices (see the HeidiBetts.com home page for links to those & more) & should start showing up in bookstores & retail outlets (Wal-Mart, K-Mart, Target, etc.) early this week. Plus Amazon, Barnes&Noble.com, etc.  In other words, everywhere, everywhere, everywhere. :cool
I hope you'll all pick up a copy as soon as you can, in whatever format you prefer.  And then keep an eye out over here, because I very much hope to run some interesting giveaways where I'll be testing your knowledge about the story based on the book itself & some of my HIDDEN HEIR blog posts.  :que I promise not to make it too hard on you…but I do think it will be fun! :chick
I AM HAPPY that after sitting in the dark for two days & three nights, my power is back on & it turns out my house's electric is just fine.  Thought I had a dead freezer…thought the wiring might be shot…thought lots of things, but after getting an electrician out here, it turns out I just had a faulty fan that was sending things wonky.  And it's all good now. :allgood
I AM HAPPY that I got the chance to do two good deeds this week—though I'm not necessarily happy about the circumstances.  First, while walking to the post office, I noticed a bunch of papers in the front yard of one of my elderly neighbors.  So I asked around & then stopped at the local magistrate's office & asked them to send someone over to check on him.  I don't actually know how it all turned out, but am hoping he's okay & was maybe just away from the house for a couple of days.
Second, I turned in another neighbor for abusing his dog.  Oh, that sort of thing makes me livid.  And though I've always thought the guy was a jerk, I've never seen him outright mistreat his animals before.  But this time…this time, he was beating the poor thing with his fist, then dragged it up the desk steps by its collar (all four legs off the ground) & I lost it.  If I could have made it outside before he got in his house, I'd have read him the riot act…& maybe I should have gone over anyway; called the cops to meet me there, but honestly wasn't sure how to handle the incident when I was the only one around & the guy is—as mentioned before—a jerk.  I did call the SPCA the very next morning, though.  The woman I talked to seemed to take my complaint very seriously, too, so hopefully they really will do something about it.  And if they don't…well, this guy's on my radar now, so I'll be watching him very carefully & probably will march over there & deck the bastard if it ever happens again. :angrychick
Last but not least,
I AM HAPPY that I got the yard mowed again—second time this summer… whoo-hoo, I am on a roll!—& that I did so without death or dismemberment.  And only one close call! :jump   (Yes, it's true, I'm kind of dangerous on a riding mower.  You wouldn't think I could take corners too fast at only two miles an hour, & yet I totally do!)
Your turn…  What are you feeling happy or grateful about this week that you'd like to share?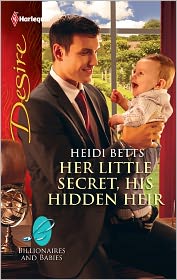 And now for the winner of this week's Free Book Friday giveaway, an autographed copy of my very own hot-off-the-presses Harlequin Desire HER LITTLE SECRET, HIS HIDDEN HEIR…
:getdown Jessica B!!! :getdown
Congratulations, Jessica! :claphat Please contact me with your full name & mailing information, & I'll get your book out to you as soon as I can!
Comments
12 Comments • Comments Feed