Happy Sunday, my Darlings!  How are you doing this week?  Well, I hope, with lots you're ready to share with us! :flower:
I don't know where you are, but in my neck of the woods, I AM HAPPY that the temperature has cooled down significantly (most of the time), which I am very grateful for.  The heat took (again—most of) the humidity with it, too, thank goodness. :shoot:  Of course, cooler weather means Fall is just around the corner, but I'm not entirely sorry about that, either…except for Winter being just after that. :dammit:
On Friday, I asked for votes on which book I should start reading next, but this week I AM HAPPY for some of great books I've already read recently! :reading:  Including, but not limited to:  Black Magic by Cherry Adair … Smoking' Seventeen by Janet Evanovich … Tennessee Takedown by Lena Diaz …  If you haven't read Black Magic, by the way, or if you've never read Lena Diaz, I highly recommend them! :angel:
I AM HAPPY, too, that I was able to help two fellow writers with their synopses last week, when they were having trouble getting all the little plot points down on paper.  I remember how hard they used to be for me, & how very much I stank at them. :shark:  So now that I feel like I've got a better handle on them, it's nice to be able to pass along what I've learned. :highfive:
And lastly, I AM HAPPY that I plotted a new story & got a new synopsis of my own written this past week.  Not for anything special, more just to have it done & filed away so I can pull it out down the road if I need it.  But I really enjoyed the process this time around, & I love, love, love the story idea. :type: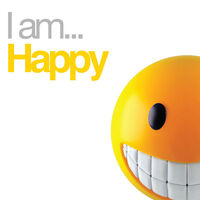 So what are you happy about this week? What has you feeling thankful & in a good mood?  We'd love to hear your positive thoughts & gratitudes, if you'll take a minute to share! ?
Comments
6 Comments • Comments Feed