Happy Sunday, my Darlings!
How have you been this week?  I hope you've got lots of great stuff going on that you're ready to share. :may7
This week, I AM HAPPY to be back on track proofreading Top Secret Project #2. :may20   Thanks to "outside issues," I've had a hell of a time with all things writing-related lately, & it's never taken me so long to get a story polished & turned in.  I can only be tremendously grateful to my editor for this one, who's been incredibly patient & understanding.  With luck, this summer's horrors will soon be behind me & I can work to once again find some sort of normalcy & successful work routine. :may8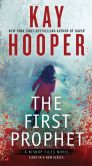 I AM HAPPY for those of you who suggested I read The Last Prophet by Kay Hooper next.  I'm nearly halfway through already & it's really good!
Did I mention that I AM HAPPY beyond words with my new Macbook Air?  Okay, yeah…  I was nervous about all get-out at first, & I still don't have a handle on Dropbox or iCloud,  –able to email via new Macbook…couldn't do that with old laptop & it's making life a lot easier. Plus, messages stay on/show up on both Macs, so no lost messages
And I AM HAPPY that Madame Mommy Dearest seems to be enjoying her time in Seattle with Little Brother.  There were a few glitches with the
flight out (of course—what else is new? :May37 ), but she arrived safely, has been doing some sightseeing, & I suspect will be eating her weight in fresh seafood on a daily basis.  That's what I would do, anyway. :may5
A few more days & she'll be home, so I only have to hope she'll have a safe trip back in this direction.
So how about you—what kind of week are you having?  What are you happy about or thankful for that you'd like to share with us today?
Don't be shy, we want to hear & give you a little cheer! :may14
Comments
6 Comments • Comments Feed