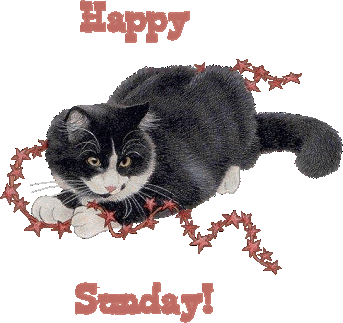 Happy Sunday, everyone! I hope you're having a sparkling, marvelous week before Christmas!  (Can you believe it's only 6 short days away? Yeeps! :whhhat )
So what wonderful things have been happening in your lives?
Personally, I'm happy that I'm not throwing up anymore. :sick   Had a very bad Friday after I inadvertently took a couple of pills too close together.  And you know, there's no going back from that.  Once you realize what you've done & start to feel icky, you can't undo it or stop the roller coaster of misery.  It takes so long for that stuff to wear off, too—yuck!  I did my best to stick it out & work around the barfing, but finally ended up just going to bed.  Then I had cats walking all over me going, "Mommy!  Are you okay, Mommy?  You forgot to feed us.  Wake up, wake up, wake up!"  So it wasn't exactly a peaceful rest, but I do feel better now.  And surprisingly, when I finally did get up to feed the kittehs, they weren't the least bit finicky; they ate what I gave them & were happy to have it. *snicker*
What I'm really thankful for this week, though, is that INHERITING HIS SECRET CHRISTMAS BABY seems to be doing very well out there in the world.  It is currently #3 on the Borders Series Romance Bestseller List & #39 on BookScan's Top 100 Romances bestseller list.  (It was #92 last week, I believe, so that's quite a nice jump. :thumbsup )
There have been no frantic calls from Galapagos telling me that Madame Mommy Dearest fell overboard during her pre-Christmas cruise, so I assume everything's going well on that journey.  (And it's not really Galapagos, it's the Caribbean & Cayman Islands…but Galapagos sounds so much more fun, doesn't it?  I just like saying it! :heehee )
A friend of mine also had surgery this week, & though she had a negative reaction to some medication & ended up in more pain than she would have liked, everything else went very well.  She also got the flowers I sent her, with no apparent trouble.  Which is a bit of a minor miracle given how much getting them ordered.  Turns out the gift shop in the hospital where she was having the procedure doesn't do flower arrangements.  Have you ever heard of such a thing?  So I had to try to track down a flower shop in the same town.  Then they were closing at noon the day I wanted the flowers delivered (& when you're having surgery one day, then getting sent home early the next, there isn't exactly a lot of wiggle room, y'know? :crazy ), but said they'd "do their best." Sigh.  It all worked out, though, & she is home & comfy again.  And I know that once she's fully recovered she'll start feeling better all around!
Last but not least, I am just happy to be hearing so much great Christmas music!  I know we could all listen to it in the middle of the year, if we wanted, but we never do.  So when the holidays roll around & I get to listen to unabashedly listen to it 24/7, it just makes me feel good.  I hope it does the same for you, too!
Your turn.  Take a minute away from all of the holiday hullabaloo to tell us what's putting a smile on your face this week! :mistletoe
And now to announce our Free Book Friday winner:
:dancing Patty!!! :dancing
Congratulations, Patty! Please contact me with your full name & mailing address, & I will get your autographed copy of INHERITING HIS SECRET CHRISTMAS BABY out to you.
And stay tuned for upcoming Free Book Fridays…there's more Christmas romance by Moi where that came from. :winkwink

Comments
8 Comments • Comments Feed