Close on the heels of Hurricane Sandy, SECRETS, LIES & LULLABIES has finally arrived!
Ta-da! :tada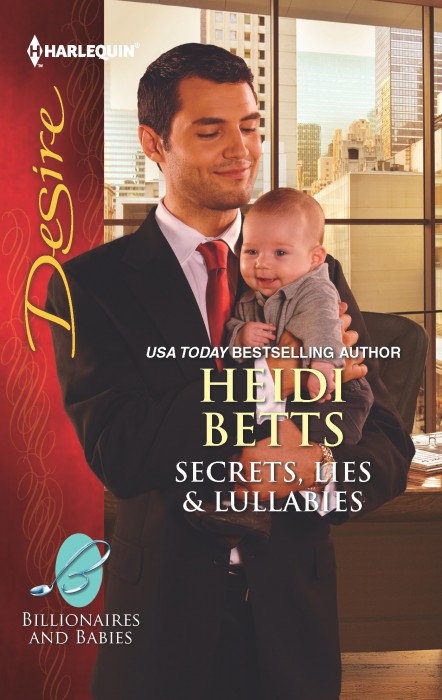 Harlequin Desire #2193
November 2012
ISBNs 0-373-73206-6 / 978-0-373-73206-7
ROCK-A-BYE BILLIONAIRE
No problem's too big for CEO Alexander Bajoran…until a baby is left in his boardroom with a note stating he's the daddy. The mother must be Jessica Taylor, an unforgettable though regrettable one-night stand. Why would she do such a thing?
When Jessica returns, desperate and remorseful, there's no way Alex will let her walk away with his son. And after discovering that she's connected to his jewelry empire's biggest rival, the mogul wonders if the pregnancy really was an accident. What will he gamble to keep his heir…and the woman who still has a stranglehold on his heart?
I am so excited about this story.
Jessica & Alexander—& yes, baby Henry—absolutely stole my heart while I was writing about them.
Add to that the bling-tastic world of fine jewelry design, the sensuality of a forbidden one-night stand, & all of the wonderful drama that followed was more fun than I ever could have imagined.
So I'm delighted to finally be able to share it with all of you!
My first request is that you run out & buy SECRETS, LIES & LULLABIES as soon as you can.  Hit your local Wal-Mart, K-Mart, Target, Meijers, or anywhere else the Harlequin Desire line is regularly shelved.  Download the e-book to your Kindle or Nook or iPad.  Or order is online at Amazon, Barnes and Noble, Books-a-Million, even Overstock.com.  It should ship immediately & reach you in only a couple of days.
(And if you're part of my wonderful Street Walkers Street Team, please remember to check inside the top of your thigh-high hooker boots for leftover "Great Read!" stickers to carry with you.  Plaster them on any copies of SECRETS, LIES & LULLABIES you see, & add a bookmark inside, if you've still got some on hand.  Thank you!)
My second request is that you read Alex & Jessica's story right away.  Yes, I know you're busy.  Yes, I know you're probably halfway through some other wonderful book.  (Thought not nearly as good as mine, right?  Riiiight? :mask )  But do it anyway, just 'cause I says so.
Then, last but not least, come back so we can chat about the story.  Let me know what you think—of my quirky heroine, Jessica…of tall, dark, handsome, & stinkingly rich Alexander…of cuter-than-cute baby Henry…& every diamond, ruby, & emerald in between!
Thank you in advance! 
And did I mention… 


Buy LULLABIES Now
Amazon :: Kindle ebook :: Barnes & Noble :: NOOK ebook
eHarlequin :: Books-a-Million :: Indiebound :: 
The Book Depository (free international shipping) :: !ndigo :: Amazon.ca

Comments
13 Comments • Comments Feed