Since yesterday was a holiday, I thought we'd celebrate "Happy Monday" this week!
So how was everyone's Mother's Day?  Even if you don't have two-legged kids, I'm betting most of you have four-legged kids, & that totally counts!
This week, I AM HAPPY that I had a very nice Mother's Day.  First of all, I have some of the best kiddos in the whole world.  Yeah, they drive me bat-crap crazy once in a while, but 98% of the time, they're just super.  So I AM HAPPY that I get to be their mom!
I AM HAPPY that I got a couple of nice Mother's Day gifts, too.  Mostly from Madame Mommy Dearest, who says I most certainly am a mother & am a better mother to The Kittehs than a lot of people are with their human children.
She gave me a bag of peony bulbs because I've only been saying for about a decade that I really, really want peonies in my yard.  I remember loving them as a kid & now I'm finally going to have some of my own!  The only question is:  where should I plant them? :spring14
She also gave me a really cute high heel bottle opener.  Believe it or not, I can really use this.  A lot of the fruit soda I drink (IZZE & the like) comes in bottles & have screw-off tops, but they hurt my hands when I open them that way.  I'd much rather pop them off the old-fashioned way.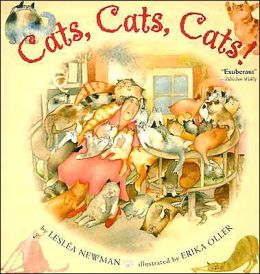 And she gave me the cutest children's book called Cats, Cats, Cats by Leslea Newman.  How perfect is that for me?  The story is adorable, too—love, love, love!
And I AM HAPPY that from The Kittehs, I got the gift of being allowed to sleep in.  Oh, they woke me early for food & to open up some windows for me, but then they let me go back to bed & didn't wake me again the way they normally would.  I call that a total win! :spring9
How about you?  Whether you want to share something from your own Mother's Day or just the week in general, we're eager to hear all the good stuff going on with you right now!
What are you happy about?  What are you grateful for?  Share, share, share! :spring17
Comments
2 Comments • Comments Feed