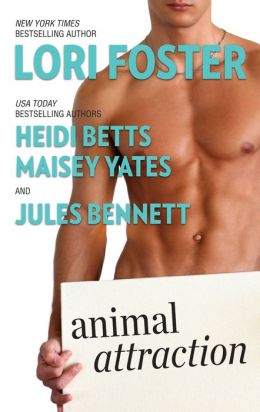 Who wants to hear some fun trivia about "Gimme Shelter"—my novella contribution to the ANIMAL ATTRACTION anthology with Lori Foster, Maisey Yates, & Jules Bennett to raise money for the shelter pets at the Animal Adoption Foundation of Hamilton, OH?
Here's some of the behind-the scenes stuff I thought you might find amusing…
Well, first of all, the hero, Dean Maxwell.  He is hubba-hot, based partly on my now Number One Imaginary Boyfriend, Dean Winchester (duh) & partly on my late father (his name was Max), who was a definitely animal lover.  He'd been a dog lover his entire life, but I'm the one who turned him into a cat lover, too.  And when I say I turned him, I mean I flipped him like a pancake. *G*  By the time I was finished, he loved my kittehs like they were his grandkids. :heartkitty
Then there's the title.  From the very start, I called this story "Gimme Shelter", but by the time I was done, I had a few more great title ideas in mind:  Eight Is Enough … Yours, Mine, & Ours … & my personal favorite, When it Rains, It Purrs.  The HQN marketing department liked "Gimme Shelter" best, though, so we kept it.  Which just means the other titles are still available to use for future stories. :puppypet
At one point in the story, Dean & Erica sit down to watch a horror movie.  Now, I'm a huge horror fan, but I just couldn't decide on a real film to use that was new enough & that also had a title that sounded gory enough for my purposes.  So I made one up—Bloodbath.  Totally stole that from one of my favorite episodes of…can you guess which TV show?…NCIS!
And here's a quirky turn of events…  Apparently there's a real horror movie out there called Blood Bath (two words, instead of my one) from, like, 1967 or something.  The copy editor caught that one.  But we stuck with my made-up, one-word version, just to be safe.  Especially since I've never seen the 1967 film.
Fairly early in the story, I used the terms "axe murderer" & "sex criminal."  Again, I totally stole these from television & movies as a sort of inside joke.  Do you know where I got them? :kittyquestion   Okay, I'll tell you.  "Axe murderer" came from the Mike Myers movie So I Married An Axe Murderer…  And "sex criminal" came from The Big Bang Theory.  Remember the episode where Howard is unlocking his front door & his mother yells, "Who is it?  Is it a sex criminal?" :laughingdog2
So there you have it, all the little "bones" I buried in the story for your added enjoyment. :greybonedog   Let me know if you notice anything while you're reading that you think might be an inside joke or buried bit of trivia.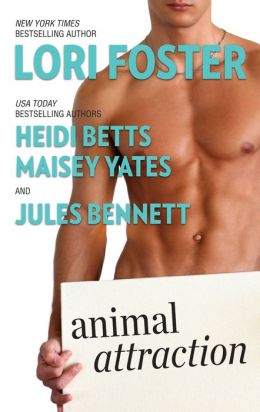 And if you haven't already, please order your copy of the ANIMAL ATTRACTION e-book now!
Remember, all Author & Agent proceeds go to the shelter pets of AAF, which is a really good cause.
:blueboxdog

Order Your Copy Today
Amazon :: Kindle ebook :: Barnes & Noble :: NOOK ebook
eHarlequin :: Books-a-Million :: Indiebound ::
The Book Depository (free international shipping) :: !ndigo :: Amazon.ca

Comments
8 Comments • Comments Feed