A FRIDAY FUNNY
It is with great sadness that I must share the news that the Pillsbury Doughboy died yesterday of a yeast infection and complications from the trauma of repeated pokes in the belly. He was 71 years old.
Doughboy was buried in a lightly greased coffin. Dozens of celebrities turned out to pay their respects, including Mrs. Hungry Jack, the California Raisins, Betty Crocker, the Hostess Twinkies, and Captain Crunch.
The grave site was piled high with flours. Aunt Jemima delivered the eulogy and lovingly described Doughboy as a man who never knew how much he was kneaded. Doughboy rose quickly in show business, but his later life was filled with turnovers. He was considered a very smart cookie, but wasted much of his dough on half-baked schemes.  Despite being a little flaky at times, he was a crusty old man, and was considered a positive roll model for millions.
Doughboy is survived by his wife, Play Dough, and his three children:  John Dough, Jane Dough, and Dosey Dough.  Plus they had one in the oven. He is also survived by his elderly father, Pop Tart. The funeral was held at 3:50 for about 20 minutes.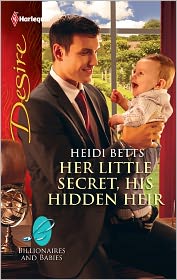 Since my author copies of HER LITTLE SECRET, HIS HIDDEN HEIR have finally arrived (there was a little mix-up at the warehouse, so they took longer than usual :smack ), I am offering an early autographed copy of Marcus & Vansessa's story to one lucky winner this week.
To enter the giveaway for this book, simply leave a comment to today's post that includes the code FBF—for "Free Book Friday," of course—to let me know you're interested in the drawing. (U.S. residents only for the prize, please, but everyone is welcome to chat.)
Winner will be announced during our Happy Sunday post on…well, you know, Sunday. Winner is responsible for contacting me with her mailing information—i.e. I will not be contacting you—so be sure to check back in or you might not even know you won! :crying (If prize isn't claimed within 14 days, another name may be drawn or item may be tossed back into the goody bag to be re-used for a future giveaway.)
Comments
27 Comments • Comments Feed