Happy First Day of Summer!
Today's post is going to be chock-full of HER LITTLE SECRET, HIS HIDDEN HEIR trivia, which I know you've been dying for, haven't you?  Haven't you? :humpf
Haven't you been waiting for it?  Wondering when I'd get around to it?  Because I usually share a few behind the scenes tidbits about new releases, don't I?
I have to admit, though, that I don't have quite as many trivial tidbits to share for this story as usual.  Unfortunately—although for me, it's very , very fortunately—I didn't have many edits for Marc & Vanessa's story, so there are not "deleted scenes" & such to post.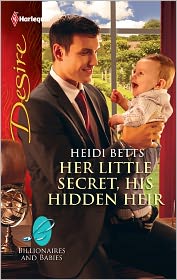 But I will do my best to share with you what I have.  And as I've mention before, you may want to take note of some of these trivial bits about HER LITTLE SECRET, HIS HIDDEN HEIR that I've been posting here, there, & everywhere.  Because I do have a couple of very cool giveaways in mind that will be making their debut…one of these days.
So here we go. Did you know…

The story idea for HER LITTLE SECRET, HIS HIDDEN HEIR is one of the earliest to come to me when I first started writing.
I'd started out with historicals…this was even before I was published…but loved contemporaries, too.  And I've always loved the Desire line, even before I ever had a conscious thought about writing for them.  (Remember those old Desires by Elizabeth Lowell & Stephanie James (a.k.a. Jayne Ann Krentz)?  Loved them!)  Anyway, Marc & Vanessa's story—complete with those very names for their characters—was one of the first I came up with along those lines.
At the time, I was actually told several aspects of my idea wouldn't fly, so I shelved it. :scared   But all these years later, I pulled it out, revamped it a little, & sold it to Harlequin Desire on my first try. :wink

In the original story idea, Vanessa & her aunt ran a craft shop, not a bakery.  But baked goods are so much tastier than yarn & felt, don't you think? :picnic
As delighted as I am with the end result of Marc & Vanessa's story, there is a typo/mistake on page 102 of HER LITTLE SECRET, HIS HIDDEN HEIR that—although I doubt anyone else even noticed—makes my head want to explode.
Possible ***SPOILER ALERT***, here, so if you haven't read the book yet, or haven't gotten that far, don't read this until you get there.  If you have read the book or are well past page 102, then I can tell you…
The very last line of the chapter/page reads: "We didn't use a condom, which means that you may even now get pregnant with our second child." Get pregnant?  Get? NO! It should say BE.  "…you may even now BE pregnant with our second child." :angrychick
I do not know how this happened.  It was fine during the first round of edits, & if it was changed during the copyedits, I never noticed, not even in the galley stage. :knock But grrrrr.  That is not how I wrote it, & even though it's only one teeny-tiny word, in my opinion it makes a huge difference to the impact of the line/chapter ending.
Sadly, there's pretty much nothing that can be done about it not; not in this printing, at any rate.  But when I pointed out the mistake to Editor C & explained the situation (i.e. my complete mental breakdown over it

), he worked a bit of magical editorial voodoo & has assured me that they are going to fix the typo as best they can in all electronic & future versions of the book.  So three cheers for Editor C, who did what he could
…& a wee cheer for me for accepting that this printing of the book is as it, nothing can be done about it, & moving on.  Well, you know, as best I can, anyway. :crying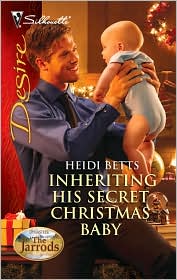 How many of you noticed the name Trevor popping up all over the place for me lately?  First, the hero of my last Desire, INHERITING HIS SECRET CHRISTMAS BABY, is named Trevor Jarrod.  And now, Trevor is the name of Marcus's wily assistant in HIDDEN HEIR.  This was not planned.  Trevor was always the name of the Marc's assistant in my mind, but when it came to XMAS BABY, the name was given to me by the Desire editors as part of the "Dynasties:  The Jarrods" continuity series.  Which was fine with me, but…did it get confusing for any of you? :que

Vanessa, Aunt Helen, & I all have something in common with Julia Child—we loooooove butter.  Mmm-mmm.  None of that I-Can't-Believe-It's-Not-Butter crap, either.  Real, 100% straight-from-the-cow cream & salt butter.  To steal a quote from Nigella Lawson, "[We] don't believe in low-fat cooking."

HER LITTLE SECRET, HIS HIDDEN HEIR is my second book for Harlequin Desire to have a baby on the cover!  I was so excited when I got my first…babies on covers are just so dang cute!…& then I saw this little guy & got excited all over again!
Oh, & it's quite possible my next Harlequin Desire cover will be a baby one, too!  At least as my next project for them stands now…it's another secret baby book! :mwah   If that happens, we may have to run a poll—which of the three babies is the most adorable? *g*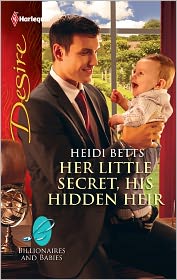 HER LITTLE SECRET, HIS HIDDEN HEIR is my 11th book for Harlequin Desire & my 25th published release in total.  (Including anthologies, of course.)  I probably should have held some sort of "Silver Anniversary" celebration, but I just didn't get around to it.  Maybe when I hit 50. LOL :spikey
So there you go—a few bits of trivia about my latest release.  If you noticed anything else about the book that should be added to the list, though, let me know!  I'm sure there's something I may have missed. :babybook
Comments
7 Comments • Comments Feed