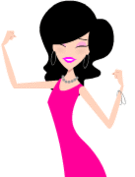 The second part of my glom of Big News sharing, which I know you've been on pins & needles waiting for…
Last week, I told you about my wonderful new sale to Entangled Publishing, but now it's time to share the deets!
My first project for Entangled is a trilogy. Not a solid three-book trilogy; it could be added to at any time to become a series. But for now, it's going to be just three books.
The series name for these three books is "Love.com" ~ a sexy, funny take on modern romance in the age of technology. Each story will have a strong element of technology &/or social media woven in. For instance, the hero & heroine of the first book link up via Twitter. And then there's Facebook & cell phones &…well, the list goes on, doesn't it? :howyoudoin:
After a bit of shuffling around between editors & lines (see footnotes at bottom of post***), the trilogy found a home under the Lovestruck imprint. Which I love. My writing style & the Lovestruck line go together like strawberries & cream…chocolate & peanut butter…me & Tom Hiddleston. :hottub:
And there's even more to come!  :shark:
But for now, let's enjoy this amount of information & just be happy, shall we?
***re: Editors ~ the supercalifragilisticexpialidocious Libby Murphy left Entangled 30 seconds after they bought my books, which means I never actually got to work with her. :crying: So I was assigned to a different editor. Then they changed their minds about the imprint under which my books would fall, so they reassigned me again. But it worked out, because Editor A happens to be super! (We're working our way up to adding the calicalifragilisticexpialidocious part. 😉)
***re: Lines ~ The trilogy was first assigned to one of the novella lines, but those closed. So they moved them over to the Indulgence line. Then it was decided they were too fun & flirty for Indulgence, so they were moved to Bliss. Then Lovestruck was developed & it was decided that they were be a better fit there. 🙃
***Three really must be my lucky number, because I was bounced around between 3 editors & 3 lines for a 3-book project, but it's all worked out swell! :flower: