Guess what just arrived?  Dutch copies of SECRETS, LIES & LULLABIES!
What do you think?
The North American cover is very different, but I have to tell you, the Dutch one nailed the picture of the heroine in my head.  And her dress!  That gorgeous, sapphire blue dress.  It's exactly what I had in mind when I described it in the book. :smiley30
This is so much fun, because now it's like I've got the best of both worlds—an adorable baby cover & a sexy, smoldering hero/heroine cover—all for the same great story. :smiley9
I hope you love both versions as much as I do. :smiley15
And for the record, you can still buy SECRETS, LIES & LULLABIES here in the States: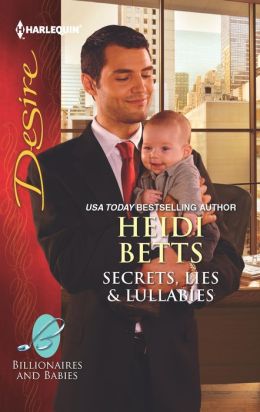 No problem's too big for CEO Alexander Bajoran…until a baby is left in his boardroom with a note stating he's the daddy. The mother must be Jessica Taylor, an unforgettable though regrettable one-night stand. Why would she do such a thing?
When Jessica returns, desperate and remorseful, there's no way Alex will let her walk away with his son. And after discovering that she's connected to his jewelry empire's biggest rival, the mogul wonders if the pregnancy really was an accident. What will he gamble to keep his heir…and the woman who still has a stranglehold on his heart?

Where to Buy
Amazon :: Kindle ebook :: Barnes & Noble :: NOOK ebook
eHarlequin :: Books-a-Million :: Indiebound ::
The Book Depository (free international shipping) :: !ndigo :: Amazon.ca

Comments
8 Comments • Comments Feed