Since I am moderately unpacked & pretty much caught up on everything else (you know, relatively speaking), it's time to share the blow-by-blow of all the fun I had at NJRW's "Put Your Heart in a Book" conference.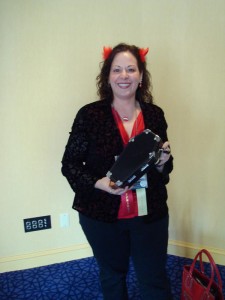 Number of guys who hit on me while I was wearing Mistress Heidi's devil horns: 3
I absolutely abhor packing—any time, for anything—but have to admit that it was somewhat easier this time around because A.) I hadn't really unpacked from my last trip *vbg* & B.) I decided to go with a complete red & black theme in honor of THE BITE BEFORE CHRISTMAS.  (But of course! :dracuulla )  I also made sure to pack all of my vampire jewelry—fangs necklace & earrings, spiders, bats…the whole bit.  I even took my little coffin purse (complete with prerequisite Vampire Blood hand sanitizer & Death Mints).  It was so much fun!  And tres easy to coordinate outfits.
And the hitting-on came from just about every male in the vicinity—which, granted, wasn't many; mostly hotel staff.  But just ask Kathy Garbera about our breakfast adventure.  :goofangel
Number of funny looks I got from non-males while wearing Mistress Heidi's devil horns: too many to count
The best thing about conferences is getting a chance to chat with old friends.  In that category, I was able to catch up with Kathy, of course, & also Jessica Andersen, Virginia Kantra, Leanne Banks, Terri Brisbin, Sharon Sala (who gave an absolutely wonderful breakfast keynote speech, by the way!) & many others.
But the second best thing about conferences is meeting new friends!  This time around, our very own Darling Paula R. introduced me to a handful of authors from her neck of the woods.  I was thrilled to finally meet the delightful Robyn Carr (who gave an equally wonderful luncheon keynote speech, by the way), Colleen Gleason (aka Joss Ware), & Kathryn Smith.  All three ladies were sweet & funny, & I hope we get the chance to hang out again soon.  (You know, if I ever again leave the house. :stalker )
Favorite thing overheard at the conference (albeit on television): "Don't sit there & act like my hair ain't luxurious, bitch, cuz you know it is!"
My workshop ("Fear of Failure, Fear of Success") was Friday afternoon, which means I got to get it out of the way bright & early, then get back to having fun. :chocolate   It went pretty well, I think. At the very least, I had a lot of folks come up to me afterwards & tell me how helpful some bit of information or another that I'd shared had been to them.  (It really was good stuff, if I do say so myself. :Pretty )
There were a couple of other workshops that I actually thought I might sit in on, but you know how that goes…  I got so busy talking & catching up that by the time I realized there was something I was thinking of attending, it was over. :ouch
Most flattering part of the weekend: tie between having Kensington Brava's Executive Editor, Alicia Condon, mention my name during her presentation…&…the number of readers who came up during the conference & during the booksigning to tell me how much they love my books!
I was lucky enough to run into Alicia Condon (Kensington Brava's Executive Editor, as well as the editor who bought my very first western historical when she was at Dorchester :biggestgrin ) in the lobby on Saturday.  She was only there for a few hours to give a presentation during the PAN Retreat portion of the conference, but I got to chat with her one-on-one for a few minutes.  I don't think I've seen her since I was writing for Dorchester, either, so it was nice to catch up!
I also got to touch base with Editorial Assistant Holly Blanck of St. Martin's Press…sat between Brava's Associate Editor Megan Records & agent Louise Fury during the luncheon (to say that was a fun meal is a huge understatement. :notworthy )…& had drinks with Senior Editor Stacy Boyd & Editorial Assistant Shana Smith of Silhouette Desire before the post-conference Book Fair.
Number of BOGO books given away during after-conference signing: 15+
The booksigning to close the conference was the very best time!  Continuing my theme of all things THE BITE BEFORE CHRISTMAS, I ran back to my room & traded in my red & black outfit & vampire jewelry for my Bite Me shirt & even more vampire jewelry.  And a Santa hat.  And fangs.
Yes, you heard me—actual fangs.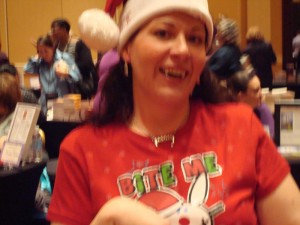 (The photo is a little blurry, but thanks to Darling Paula R. for sending it.  Otherwise there would be no record at all of my corniness.  I mean, dedication to my craft.  Yeah, that's it…dedication.)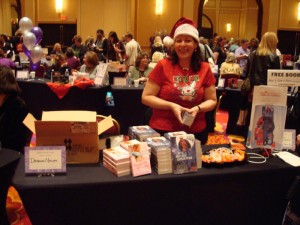 In addition to the whole Christmas vampire ensemble, I gave away rubber fangs, bat candy, & a copy of CHRISTMAS IN HIS ROYAL BED to anyone who bought either THE BITE BEFORE CHRISTMAS or KNOCK ME FOR A LOOP.  (See, that's me, spread out all over the damn place. LOL) It was a blast!  I had a line the entire time & never bothered to sit down.  One reader, when she reached me, even said she knew my table would be the most fun of the whole bunch, & it was!  I got to meet so many people—readers & booksellers & other writers…even a few family members of readers.  I was so much fun to meet everyone & get feedback on my books.  Thankfully, this time, it was all good. :thumbsup
I gave away at least 15 copies of ROYAL BED, had a bunch of folks sign up for the "Fang-tastic Vampire Swag Bag" Giveaway (yes, I had a sign-up sheet & poster of the prizes *g*), & at the end of the signing, even the clerk working the register said I must have sold a lot of books because he'd run up a ton of BITE.  Yippee!
Number of minutes I got to swim in the hotel pool alone, in the dark, before children arrived to ruin it all: 10
After that, I was exhausted.  Never mind the entire conference or booksigning, just getting all my junk packed up & back to my room was an ordeal.  (Have I mentioned that I'm lazy & insisted on carrying it all in one trip?  Yep, that's me.)  I was too tired to go back out for dinner, so I ordered a pizza, then decided to go down to the hotel pool.  (This hotel has the best pool.  I would spend the entire weekend in it, if I could.)  And I got at least ten blissful moments all to myself before a couple of little kids came running in & started to splash around.  Ah, well, it was fun while it lasted.  And I got dried off & back to the room just in time for my pizza to arrive, so it's all good.
As much as I love these things, the next morning I packed like the wind & made a beeline straight for home.  The babies were waiting for me, after all, & Mistress Heidi wanted her devil horns back. :devil
Comments
19 Comments • Comments Feed