A couple weeks ago, I asked you guys for some input on what type of e-reader &/or tablet I should think about buying.  You all offered great advice & shared your likes/dislikes about your own devices.  One of you even suggested I visit Best Buy, where I could see, touch, & test drive one of everything.
So I took that advice.  It was…enlightening.  And let me tell you, the minute I walked through the door, every salesman in the place perked up & saw this…
For those of you who are unfamiliar with visual sarcasm, that would be an All-Day Sucker.  It didn't help that the kid who ended up helping me had a picture of his cat on the back of his clipboard. Oh, yeah—I saw that even before I found the e-reader section, & from that moment on, I was putty in his hands.
The first thing I looked at was an iPad.  I was there for at least four hours, so I spent a lot of time playing & asking oodles of questions.  But I also checked out the Kindle Fire & Nook.  The thing that had me leaning strongly in the iPad's direction was that I could have both the Kindle & Nook apps on it, plus a keyboard & writing/editing capabilities.  And I like the white one best. :patrick
They on-screen keyboard was a little small, though, so we started talking about external keyboards.  Cat Boy showed me an external keyboard that doubled as a case, which I liked, & also a wireless keyboard.  Of course, the wireless keyboard led us to a display of iMacs & Macbooks.  And I said, "Oooh, what are these? Can I play with them?"  And, yes, I will admit that it was the pretty-pretty colors of the pretty-pretty background picture on the monitor that drew me.  (See "All-Day Sucker" above. :slamdesk )
So then we started talking about how homicidal I've been lately over my Windows PC.  From almost the moment I got it, it's been nothing but a pain in my butt.  I actually like Windows 7 & Word 2007, but the damn thing crashes on me all the time.  Not just the "blue screen of death," either (which is always accompanied by a lovely, high-pitched screech just before everything turns blue), but also the "black screen of doom."  Cat Boy told me that Macs don't crash.  They're bigger, better, more stable, & even ask you how dark you like your toast in the morning.  All the cool kids have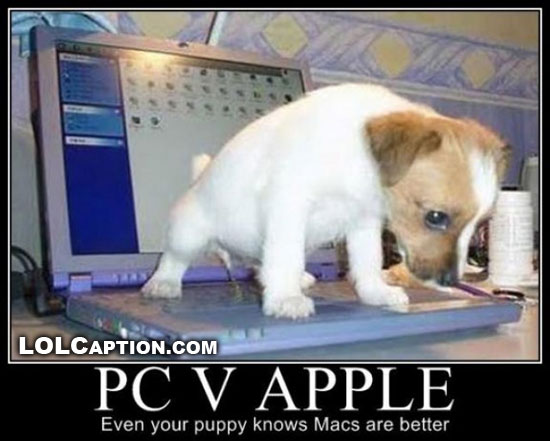 them, y'know.  Not only that, but he showed me all the ways they're similar to Windows PCs so I would know how "easy" it would be to switch over.  Uh-huh.
I was intrigued, but I was strong.  I hadn't come in for a brand new computer, only an e-reader or tablet, so I certainly wasn't going to make any impulse purchases.  I did decide that walking out with an iPad was a good idea, though.  I mean, that's pretty much what I'd gone in for, & I'd already done some research online, so I knew their prices were in line with most other retailers.
So I told Cat Boy which one I wanted, & he jogged off to the storeroom to get one for me.  A couple of minutes later, he returned empty-handed.  They were out of the iPad I wanted. And I didn't want to settle for a lesser version—or a different color—once I'd made up my mind.
Disappointment on an epic scale.  I totally had my heart set on going home with a brand new shiny toy. :patrick2  But now what was I going to do?
There's more to the story.  Oh, so much more.  But what do you think happened next?
I'm going to give you a few days to guess, then I'll fill you in on the rest. :bubble
Comments
15 Comments • Comments Feed