Mistress Heidi & I are delighted to have another very special guest in The Dungeon today.  You've met her before, but she somehow talked us into inviting her again. :moonyou
Addison Fox can't remember a time when words weren't part of her life.  An avid reader, her love of the written word started at the tender age of one with The Owl and the Pussycat by Edward Lear (a poem she could recite by heart to any family member who would listen).  Dr. Seuss, C.S. Lewis, Judy Blume and a host of others quickly followed until she discovered The Clan of the Cave Bear by Jean M. Auel while writing a paper at the library in the seventh grade.  Although not a classic romance, Ayla and Jondalar's love story moved her firmly into the romance section and she hasn't looked back!  You can visit Addison online at AddisonFox.com.
So please give Addison a big WIPs and Chains welcome while we strap her to The Rack & ask her some of Mistress Heidi's most probing questions…
What is your favorite color?  Green—has been since I knew what the different colors were.
Favorite song?  Hmmm…that's a tough one, I love so many. I'd probably say "Don't You Forget About Me" by Simple Minds. Breakfast Club is my favorite movie and I've always loved that song.
Favorite movie?  You just made this one easy.  The Breakfast Club is my favorite movie—has been since I was 12 and madly in love with Anthony Michael Hall.
And of course, favorite book?  Happy Ever After by Nora Roberts. For nearly two decades it was Paradise by Judith McNaught, but Malcolm Kavanaugh swaggered onto the page and I quickly shifted loyalty. :kissmeirish   I'm not a big re-reader (there are too many new books to get to!) but I've read it, like, eight times so far.  It's a total comfort read!
What was the first book in your chosen genre that you remember reading, or that made you want to write the same?  I can't say there was really one book, but I discovered romance novels in my teens. I was a huge reader of what I called "The J's" at that time—Judith McNaught, Jude Deveraux, Jayne Ann Krentz, and Jill Barnett. I realized that they were all writing for Pocket/Simon & Schuster and I remembered thinking at the time that if I ever wrote a book I'd want to submit it to Pocket.
What do you think of Heidi? She's great, right?  I adore Heidi. Not only does she have outstanding taste in men (hello!—Jason Statham and The Rock :hot ) but she's fun, friendly and so incredibly supportive of other writers. She's been a tremendous champion and I think the world of her.  So yeah…in a word—she's GREAT!
How did you get started writing?  I moved in my early 20s to Dallas for a new job. It was a big move and the first time I was really on my own (and miles away from my entire family). I'd been thinking about writing a novel for some time and just sort of got this wild hair to do it. I wanted to sit down and write an entire book to see if I could do it.  The first book took me about a year, and then I fiddled around for another four years writing another one, but in 2002 I got really serious and joined RWA and the Dallas chapter. That was it for me. I wrote eight more books between the time I joined in September '02 until I sold in November '08.
Tell us a little bit about your first (or most memorable, if you prefer) sale.  My first sale came on my "Sons of the Zodiac" series. It was November '08 and I'd gotten an email from my agent that morning saying she thought we were close. So I promptly called my sister, started squealing and basically did no work (neither did she!) for the entire day at my day job.  My agent called around 2:00 that day (I had to go into a meeting and I was clutching my cell phone the entire time) and snuck out to take the call. The hardest thing was not screaming or carrying on as I stood (hid) behind a wall of bookcases as she told me about the deal.
Fill in the blank—If you like [blank], you'll love Addison Fox!  Hmmmm….this one's hard. I love so many authors and feel like a total poser trying to compare myself to them!  So I'll sum it up a different way. I believe all of us have true power and passion in our souls. I enjoy writing about characters who live their lives that way or who come to find their passion through love. I also think life offers us a chance to laugh at ourselves and I like to think there's a fairly wry sense of humor threaded through my work. Nothing laugh-out-loud funny, but just a little wink to not take everything too seriously.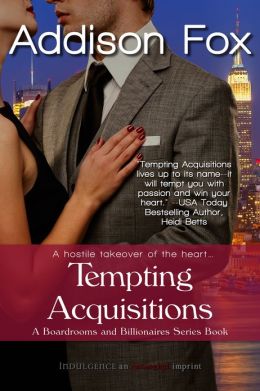 You've been a visitor to The Dungeon before, to pimp your debut paranormal romance. But now you're here to pimp a category-length contemporary. Mistress Heidi rarely allows authors past the gates to sell their wares more than once. :charmer So tell us—what makes you…er, I mean, your new book so special? Tell us about it and why we'll love every word.  You are so incredibly sweet to have me back again!  I am a huge category romance fan and probably about half of what I read in a year is category work. I think it's an incredibly vibrant part of the romance genre—fun, flirty stories that pack a real punch in fewer words.
Because I love it so much, I've wanted to break into category for a while. I think there's a really fun opportunity to write glitz and glamour and that was my focus for TEMPTING ACQUISITIONS, which is the first book in the "Boardrooms and Billionaires" series for Entangled Indulgence. Three sisters are restoring their family magazine empire back to its former glory and, now that they've made a huge success of it, the corporate community has taken notice. Corporate raider, Nathan Cooper, decides to make a play for the company…and falls for its CEO, Keira McBride, at the same time.  Fun, strong-willed characters against a lush, glamorous backdrop. I had a blast writing all three books!
I understand you also got a fantabulous cover quote from a really super-duper amazingly talented author. Wowza. How'd you manage that?  Fantabulous doesn't even begin to cover it!  My editor came to me and asked me if there was anyone I'd want to ask for a quote and I immediately thought of Heidi. Not only is she just a great person (and uber-supportive as I mentioned earlier!!) but I love, love, love her work and felt it would be an incredible honor if she read my book.  I'm just so thrilled she was so gracious to take the time and share such an incredibly warm and lovely quote for the book!
If your plane crashed in the Andes, would you convince the other survivors to eat Heidi first or last?  I like to think that Heidi and I are such awesome, butt-kickin' babes that we'd hike to get help from the soccer hotties who live in the village just over the mountain (you know, all that time on the Torture Cycle has to account for something) and they'd secure help on our behalf. No one has to eat anyone and we end up with some serious South American eye candy. A true win-win!
If you could write anything—whether in the same genre/sub-genre as you're writing now or another—what would it be?  I feel very fortunate that I've pretty much been writing what I want to be writing. My agent is wildly supportive of me and my ideas and she's been incredible helping me to find the write publishing partners for my work. My editors have then been awesome about hearing my ideas and helping me bring them to life on the page.
What are you currently working on?  In addition to writing category for the Indulgence line for Entangled, I'm also writing for the Romantic Suspense line for Harlequin. I'm writing a series for them called "The House of Steele"—think Thomas Crown Affair meets Leverage.  The House of Steele is a high-end security firm run by the four Steele siblings, who can "find anything, fix anything or break anything."  The Paris Assignment comes first, in July of this year, and right now I'm working on The London Deception which will be late '13/early '14. I really wanted to write something fun and sexy that reads a bit like a caper. I'm having a ton of fun with these books!
LIGHTNING-FAST LASHES:
Leather or lace?  Leather
Devil or angel?  Angel
Angel food or devil's food?  Angel's Food
Hemlock or arsenic?  Hmmm…good one but I'd likely go for super-quick like cyanide.
Blood, sweat, or tears?  Sweat—hard work trumps all.
Boxers, briefs…or commando?  Oooh…love a man who can sport a sexy brief.
Cowgirl or missionary?  (Hey, get your mind out of the gutter. I was simply asking what you wanted to be when you were growing up. :muahaha )  Would have to say Cowgirl…yes, as a child of the 70s, I persisted in the fantasy that I wanted to grow up and be a Dallas Cowboy Cheerleader.
That was great, Addison—thank you so much!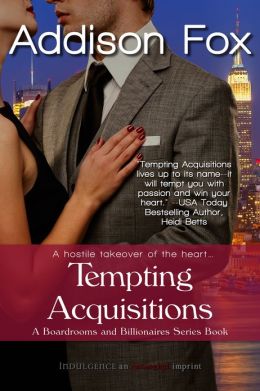 Addison has also generously offered to give away two e-book copies of TEMPTING ACQUISITIONS to a couple very lucky commentors today!  So the more you chat, the better your chances to win!
These will be digital copies, so be sure you have an e-reader before entering.  (If you don't, but want to ask a question or leave a comment without being entered in the drawing, just say so. :like )
As usual with Dungeon giveaways, the winners will be announced during our "Happy Sunday" post on Sunday, February 17th.  Winners are responsible for contacting me once the announcement has been made.  I will forward the information to Addison, & she'll send your e-book sat her earliest convenience.
I hope that makes sense!  Any questions, just ask. :flutter
Good luck, & enjoy chatting with Addison!
Comments
15 Comments • Comments Feed