I've been sitting on this for a couple of weeks because it wasn't quite ready for prime time, but finally I'm able to share the new cover for my November Harlequin Desire SECRETS, LIES & LULLABIES!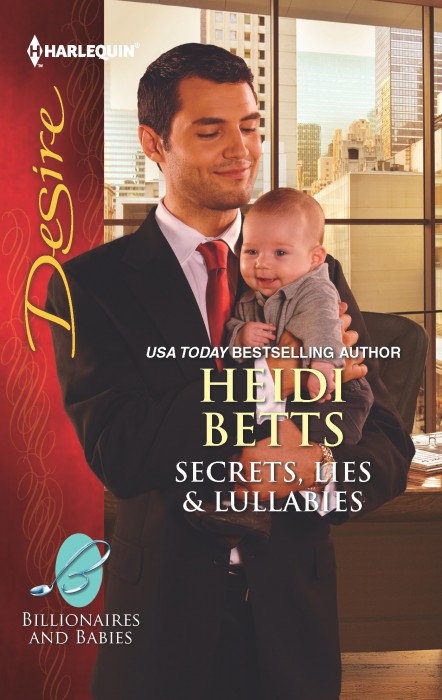 How much do I love this cover? Let me count the ways…
Well, the baby is freaking adorable…who could resist?
The hero is HOT!  And he reminds me of someone…an actor or something. Any idea who I might be thinking of?
The look on the hero's face.  Le sigh.  He's cute & lovin' his kid.  What could be sexier?
The red tie—love!  I put so many of my Desire heroes in dark suits & red ties because I've got kind of a thing for them personally. :howyoudoin
The "Billionaires and Babies" flash.  Sorry, but I'm a sucker for billionaires & babies, & am always thrilled to be a part of one of Desire's special promotions. :happysun
And best of all…  See my name?  It's bigger than on any of my previous Desires & in yellow instead of white.  That would be because of the spankin' fresh "USA Today Bestselling Author" designation they now get to slap on.  Yep, that's me.  Weeeeeeee! :eeee
So what do you think—do you love it as much as I do? :chickendance

Order Your Copy Today
Amazon :: Kindle ebook :: Barnes & Noble :: NOOK ebook
eHarlequin :: Books-a-Million :: Indiebound ::
The Book Depository (free international shipping) :: !ndigo :: Amazon.ca

Comments
21 Comments • Comments Feed